Find the perfect outdoor furniture for your style—whether you have a small balcony or a sprawling, landscaped yard.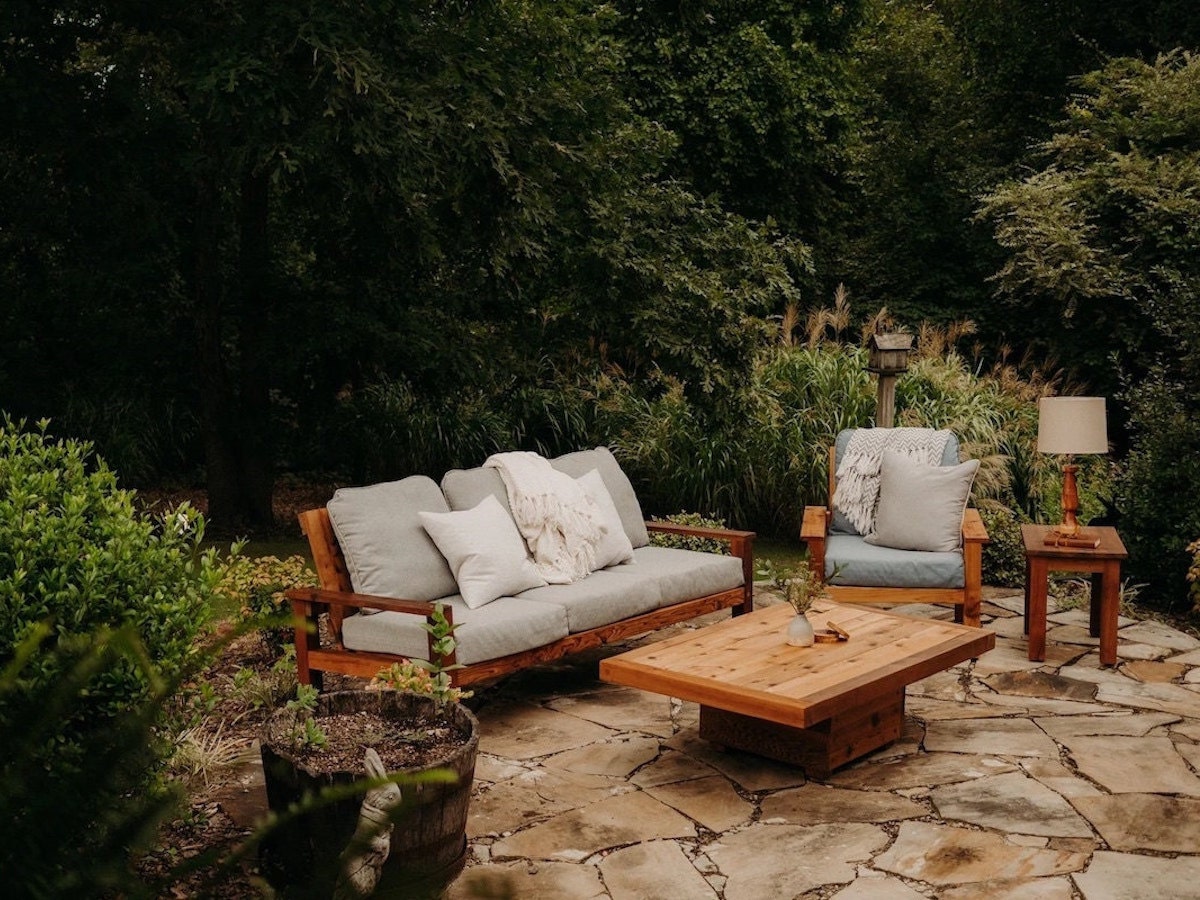 Raise your hand if you want to spend more time outside! Get some fresh air and enjoy some al fresco dining without ever leaving your home with handcrafted outdoor furniture perfectly suited for your outdoor area, from small yards and balconies to poolside decks and garden party-worthy courtyards. Add a new piece of patio decor and you'll never want to go inside again!
What to look for when choosing outdoor furniture
The best patio furniture feels like an extension of your indoor space: It turns your yard into a livable space for entertaining, relaxing, and dining. Think of it as a home addition without the construction costs! You should consider what kind of aesthetic you're looking for but also the space that it will occupy. Will it be placed on a covered patio or an exposed deck? This will help you determine the durability of materials needed for your furniture, and if it can be a space enjoyed year-round. You want your purchases to last, so choose something with materials and style that will stand the test of time.
Most durable materials for patio furniture
Often, the most durable material for outdoor furniture is wrought iron and other metals, but wood patio furniture can last for many years if made from the right kind of wood. Cedar, teak, and cypress wood all can withstand inclement weather—and they look good too.
Certain patio furniture can be left out in the winter, like wrought iron and some types of wooden furniture. Most wicker patio furniture should be brought inside if you live in a place where winters can bring harsh weather like snow and excessive rain. Because the patio furniture on Etsy is handcrafted by real people, they'll often share care details in their listings so you can love your new piece of furniture as much as they do.
Small patio furniture
Maybe you have a small balcony to enjoy the warm weather from, or you're looking for the perfect small patio seating set for the nook of your front porch. No matter how snug your outdoor space is, you can add some serious personality with these picks for the best patio furniture for small spaces.
1. The best small patio furniture set for balconies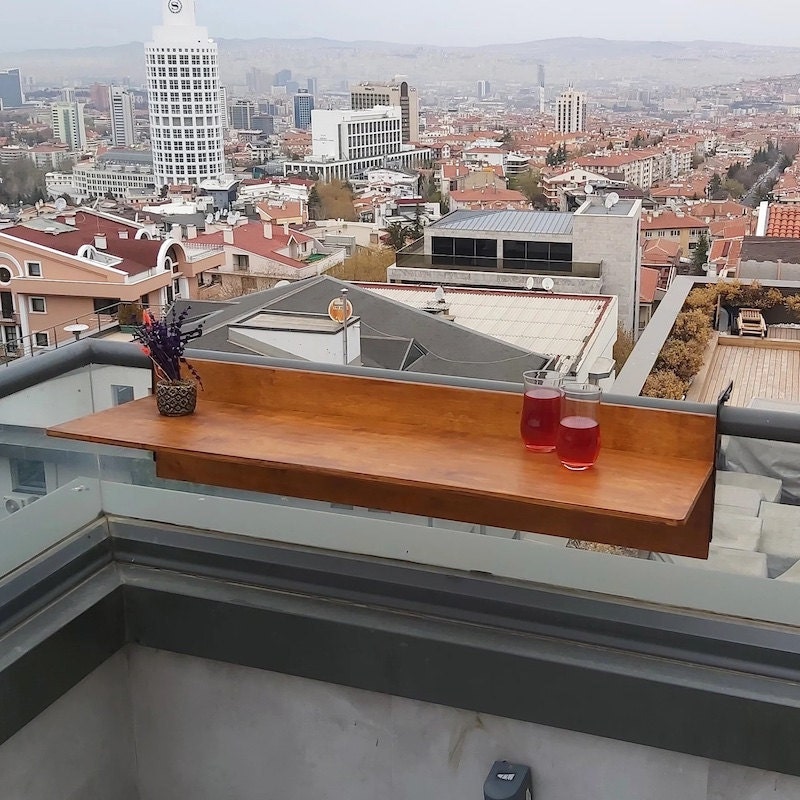 SHOP: Balcony bar table from Geo Wood Work, from $95
Love your balcony area but need a space-saving solution to have your favorite summer spirit in a cool cocktail bar area? Enter: This balcony table for small patios. It hooks right onto the railing of your balcony. Need a little more room for lounging? Don't worry, this table folds up in a flash so you can kick up your feet (literally) at a moment's notice.
2. The best patio chair for small spaces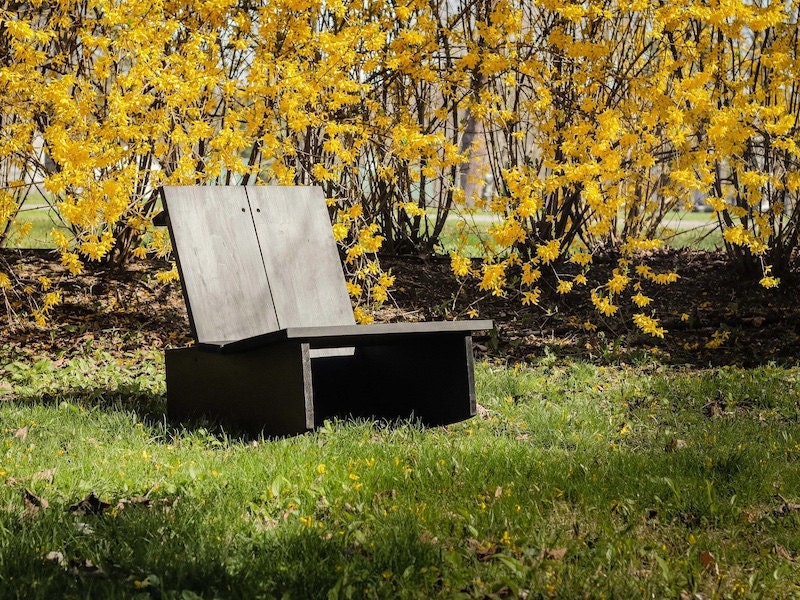 SHOP: Rocking chair in black pine from Pico Ranch Objects, $1,200
Made from black pine, this modern rocking chair brings a minimalist aesthetic to your small outdoor area. And with an overall depth of just 30 inches, this can fit in that hard-to-style patio nook you've been trying to furnish, making it the best chair for small patios.
Modern patio furniture
From modular outdoor furniture to clean lines and classic shapes, these modern patio furniture sets elevate your outdoor space in a snap.
3. The best modular patio furniture set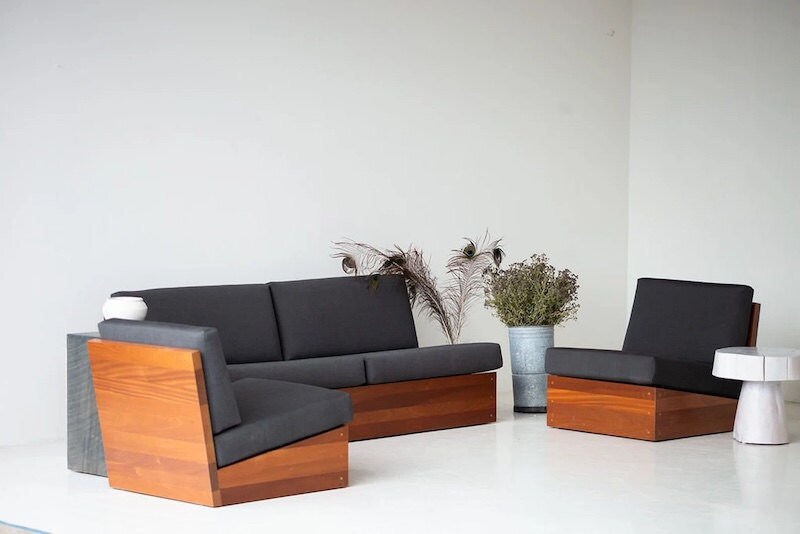 SHOP: Modern modular patio furniture set from Bertu Home, $2,500
The best part about the super-popular modular furniture trend is its flexibility: You can mix and match and make the furniture work for your space—not the other way around. This handcrafted patio furniture collection includes two different-sized lounge chairs and a patio loveseat, which you can arrange to create the perfect outdoor den to find your inner zen.
4. The best modern patio coffee table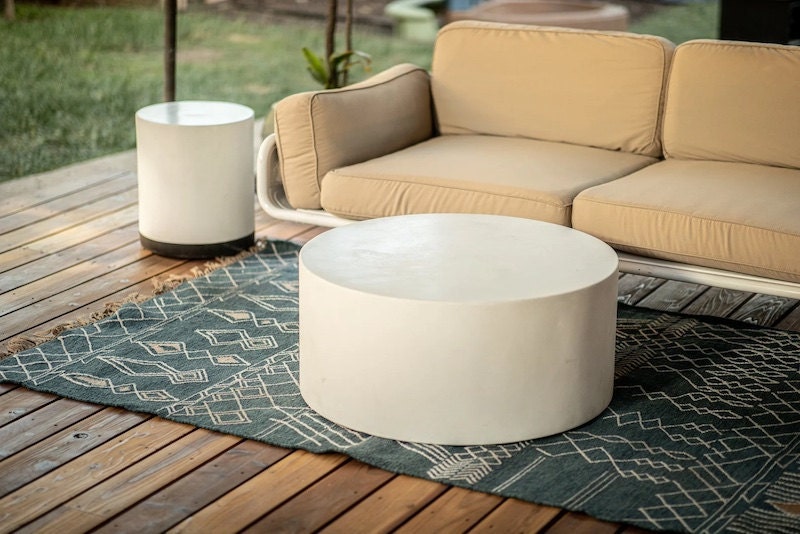 SHOP: Round concrete outdoor coffee table from Crafts Manhattan, from $1,600
Gather round! This concrete coffee table adds a modern element to your outdoor zones. Its neutral creamy gray tone will go with whatever furniture you add to your patio, and its nearly indestructible material means it's no fair-weather friend.
5. The best modern patio bench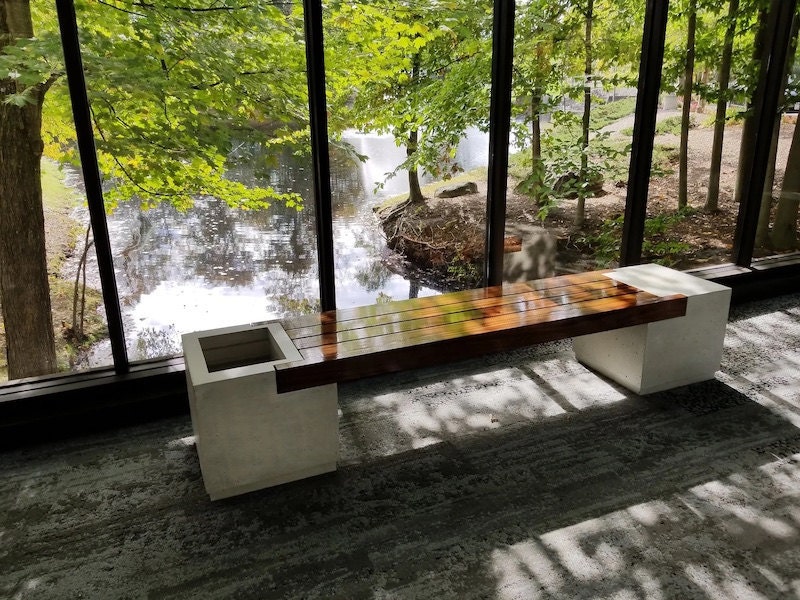 SHOP: Wood and concrete outdoor bench with planter from Justin Gray Design, $2,195
Plant lovers, we've found the perfect outdoor bench for you. This contemporary wood bench comes in a sleek earthy tone of mahogany and features a planter on one side for your leafy and fronded friends.
Wood patio furniture
An outdoor furniture classic, wood patio furniture has a timeless look and feel, and it's durable enough to handle the heat of summer and the harsh rains that can come with it. A versatile material that can easily be paired with modern designs and decor, wooden patio furniture brings durability and style to your yard.
6. The best wood patio loveseat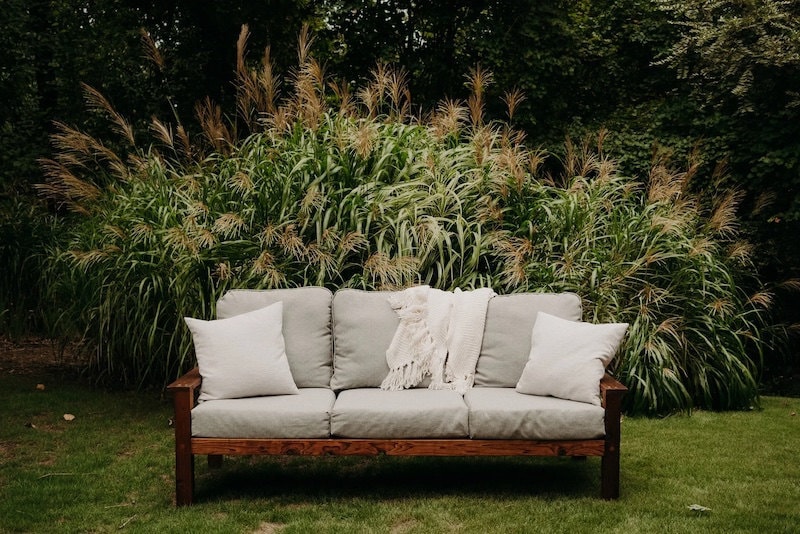 SHOP: Outdoor patio couch from S&O Co., from $799
This sturdy outdoor loveseat is crafted from Western Cedar and coated with an oil finish that provides protection against the the perils of the patio. Add on cushions, a lounge chair, and side table to complete this gorgeous wooden patio lounge set!
7. The best wood dining table set for a porch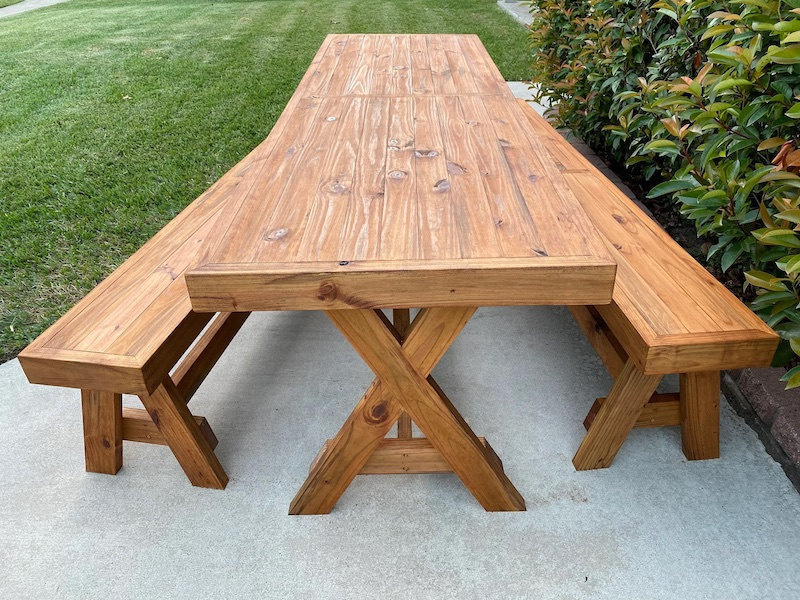 SHOP: Treated pine picnic table and benches from Wood Works by LeGrand, from $878
Plan your perfect picnic in your own backyard with this solid wood table and bench set. The best part? Its space-saving design means the benches can slide under the table for compact storage.
Metal patio furniture
Known for its durability and sleek design, metal patio furniture is a great choice if you want to keep your outdoor furniture out all winter to weather the elements. Wrought iron patio furniture gives your yard a midcentury modern feel, so you can look cool while lounging even in the hottest of temperatures.
8. The best metal patio dining set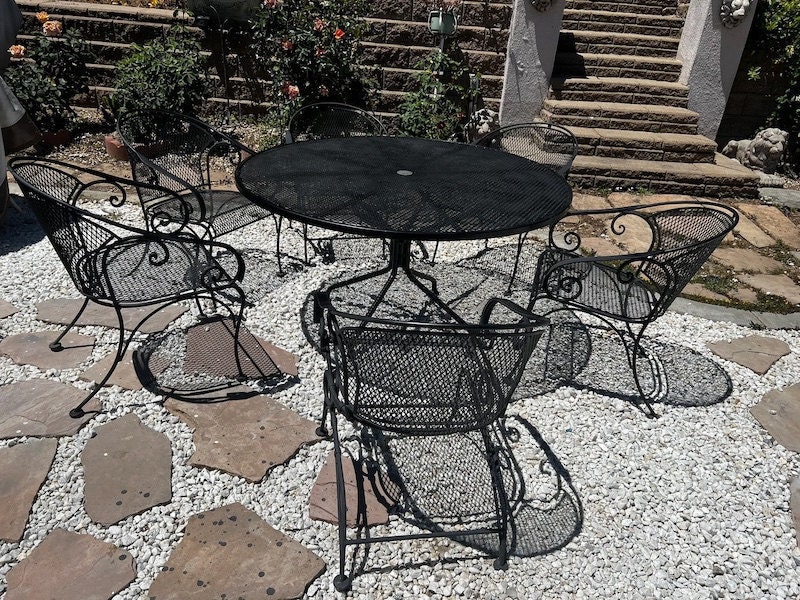 SHOP: Vintage wrought iron patio dining set from Liana's Teak Vintage, $1,499
Wrought iron is a low-maintenance, sturdy patio furniture material that can be kept outside all winter long. This vintage piece brings gothic garden party glam to any outdoor area.
9. The best vintage metal patio chairs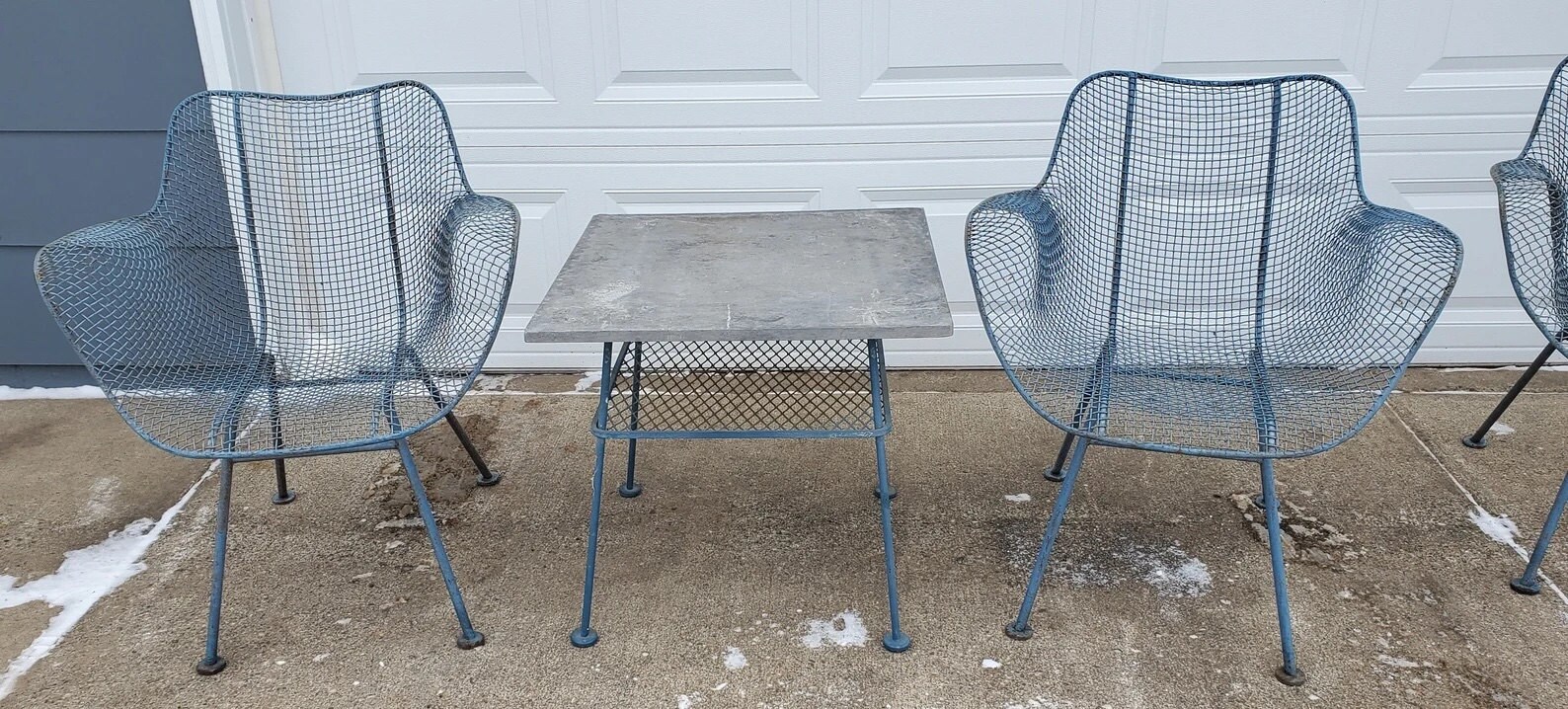 SHOP: Midcentury modern patio furniture set with four arm chairs and a side table from Al's Redesign, from $3,520
A little bit sculptural, a little bit midcentury modern: These vintage metal patio chairs are timeless geometric goodies that have it all.
Wicker patio furniture
Imagine yourself relaxing in the English countryside with a quaint and rustic feel of wicker patio furniture. If your wicker furniture set is actually made from vinyl or plastic, you can leave it outside for the winter, but if it's true wooden wicker, it's best to store these pieces inside for the winter months so they can be enjoyed for many years.
10. The best wicker patio set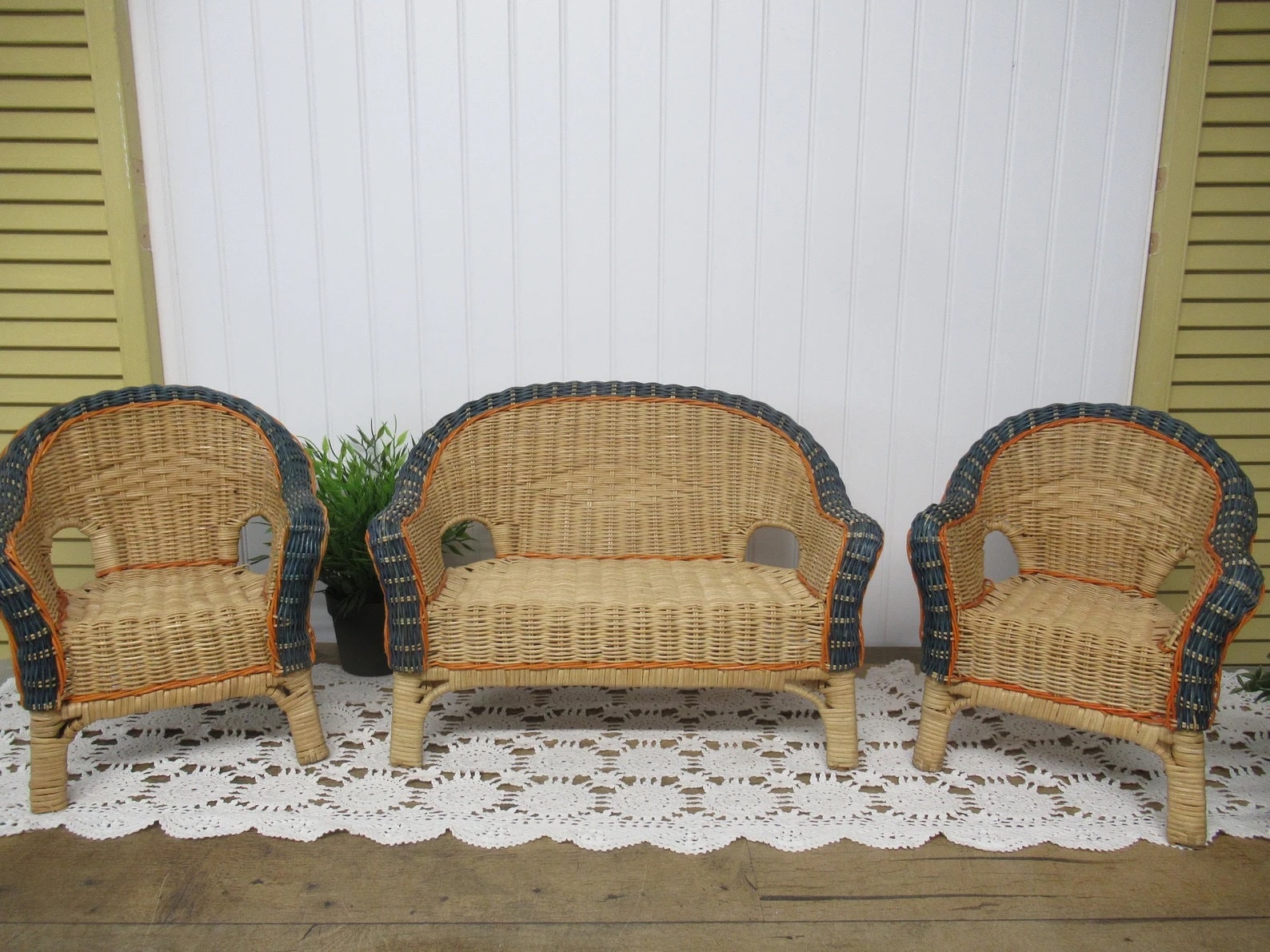 SHOP: Large vintage wicker loveseat from TIC TAC LOVE, $145
This classic romantic wicker loveseat set is best paired with a sunhat and your favorite beach read. Add some coastal grandma aesthetic to your decor and wardrobe, and you'll be ready for a Cape Cod summer whether you're a New England native or just dreaming of the sounds of waves crashing against the seashore.