From traditional and practical to unique and personalized, these are the best housewarming gifts for couples to celebrate their new home.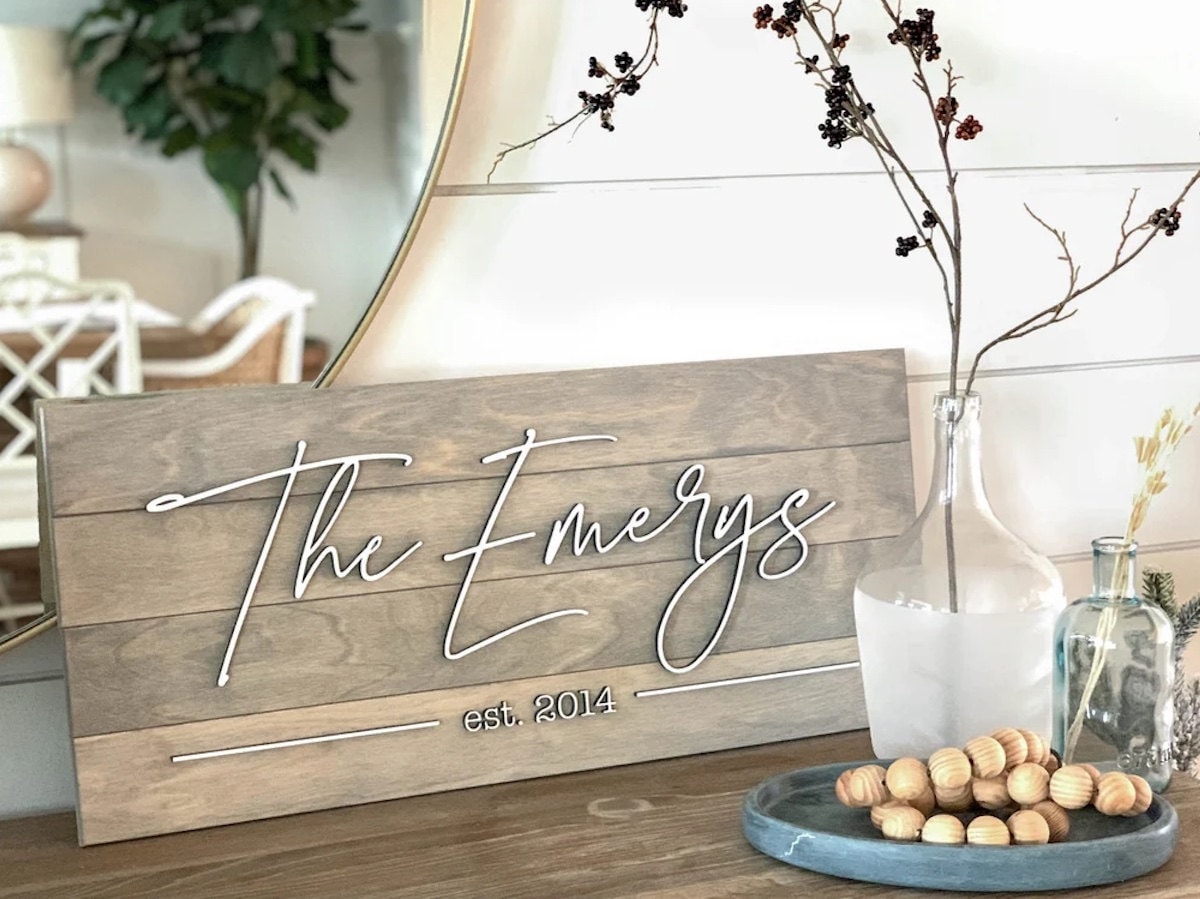 Raise a glass, there are a couple of new homeowners on the block! Help them feel right at home in their new space with a stylish and thoughtful housewarming gift that says "welcome to the neighborhood."
Whether you're shopping for an ambiance-setting candle to help them settle in or something sweet and sentimental to mark this momentous occasion, these are some of the best housewarming gifts for couples, handcrafted by the talented small shops on Etsy.
Personalized housewarming gifts for couples
Make traditional housewarming gifts for couples feel extra special when you add a bit of personalization. Whether it's their new house number, their last name, or a personalized piece of art for their wall, they'll love these one-of-a-kind housewarming gift ideas for couples.
1. Marble and wood engraved coaster set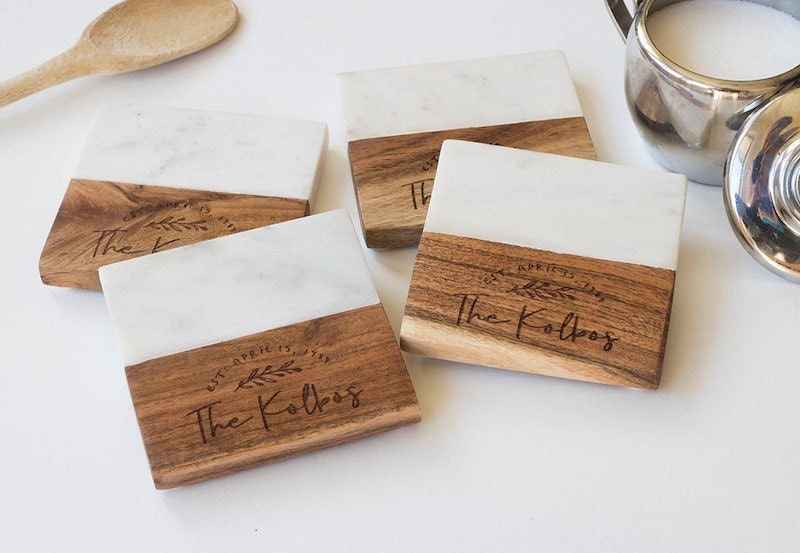 SHOP: Marble and wood engraved coaster set from Desk Candy, from $24
These modern marble coasters feature the new homeowners' name and an "established" date. You can personalize this housewarming gift idea for a couple with the date they became homeowners or their wedding date for a party-ready coaster set.
2. Personalized monogram pillow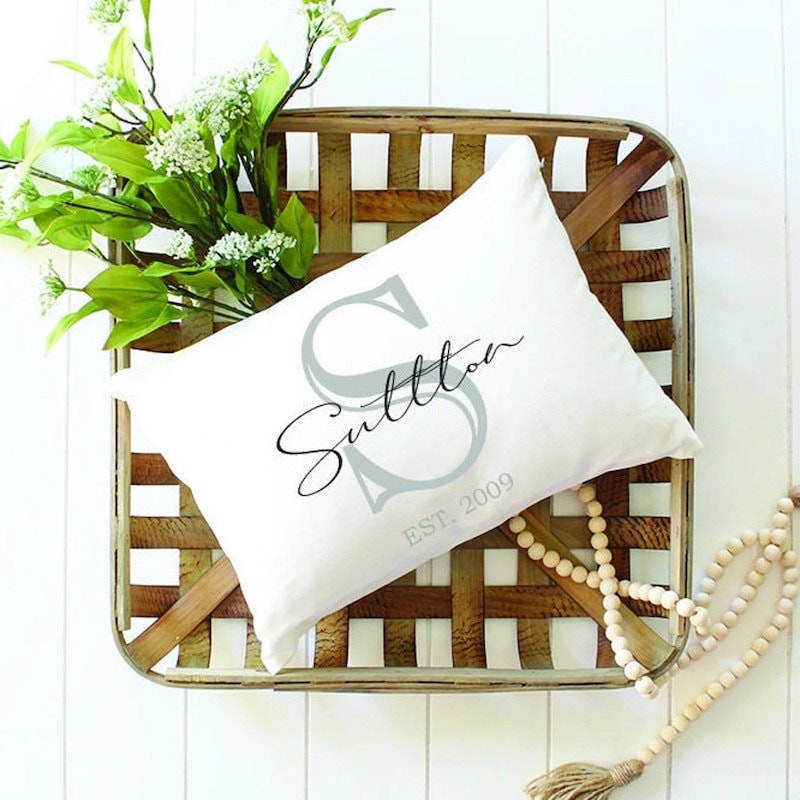 SHOP: Custom monogram pillow from Chase Ryan Home, from $20
The new homeowners can add this custom monogrammed pillow to an entryway bench, their bed, or on a living room chair as they make their space their own.
3. Custom house number sign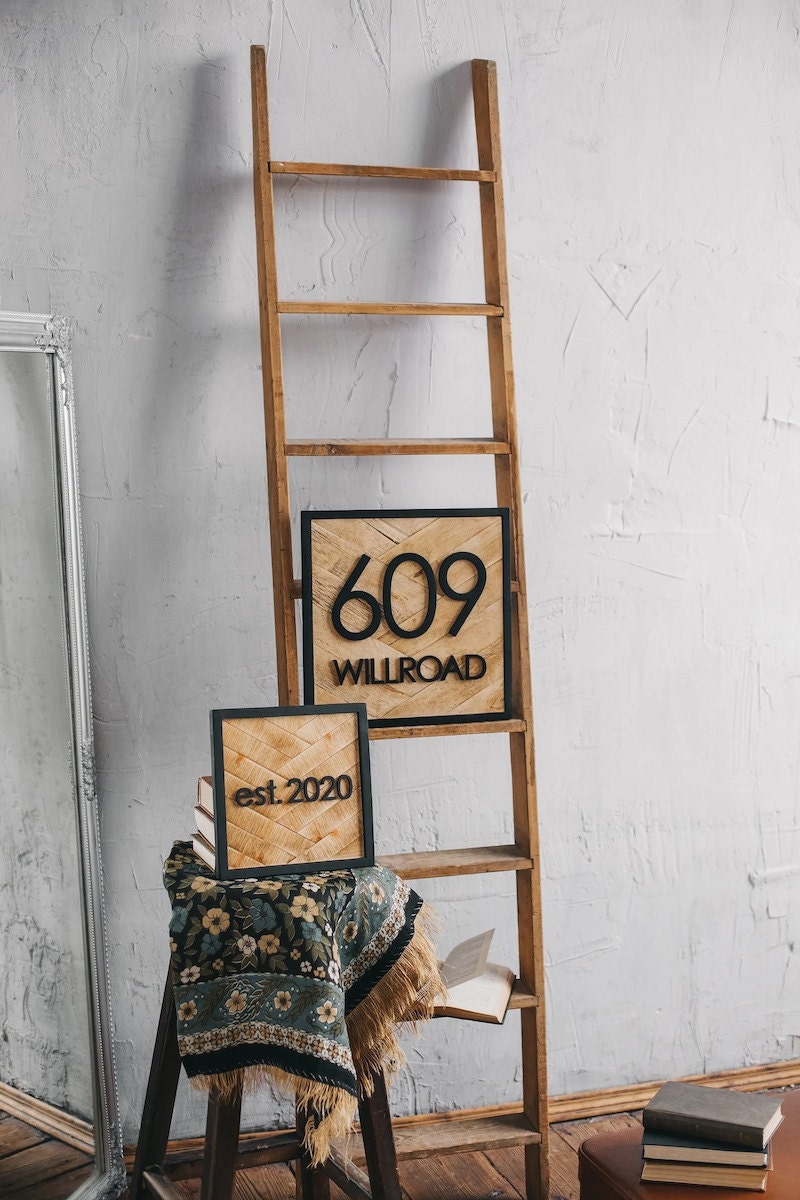 SHOP: Custom house number sign from CJamStore, from $47
Celebrate the couple's new digits with a custom address sign featuring their latest location. Or, commemorate where they've come from with a sentimental sign that shares their previous address.
4. Custom couple portrait mugs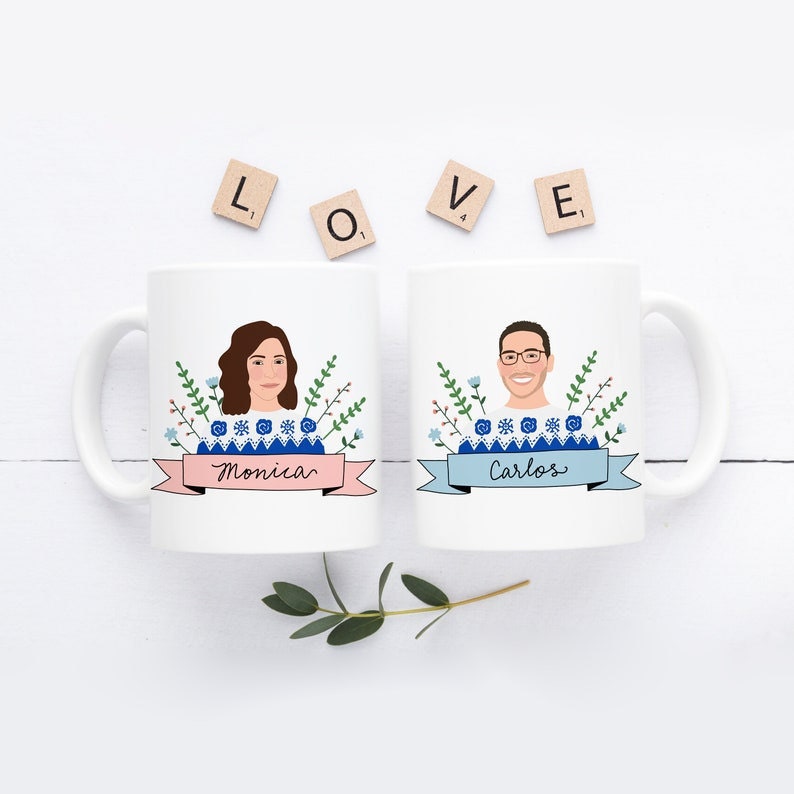 SHOP: Personalized couple portrait mug set from Avonnie Studio, from $124
For the duo who can't possibly unpack another box in their new home without some serious caffeine, a set of custom couple mugs—featuring their smiling mugs—is the perfect housewarming gift idea for couples.
5. Address-adorned charcuterie board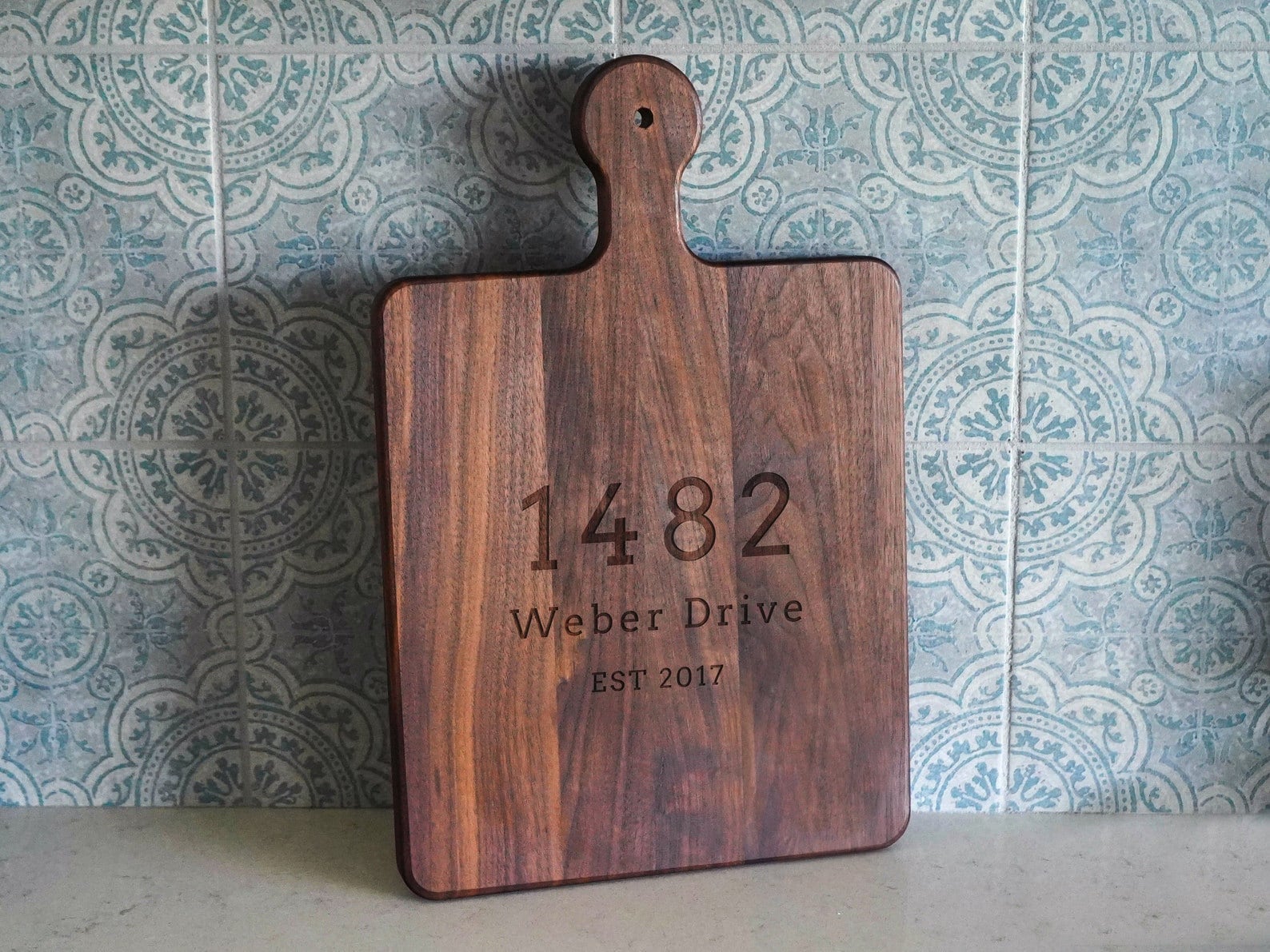 SHOP: Personalized address charcuterie board from Copper Fox Company, from $23
If the newest couple on the block loves to entertain, you can't go wrong with a customized charcuterie board featuring their address, their last name, or another fun personalization.
6. A custom couple portrait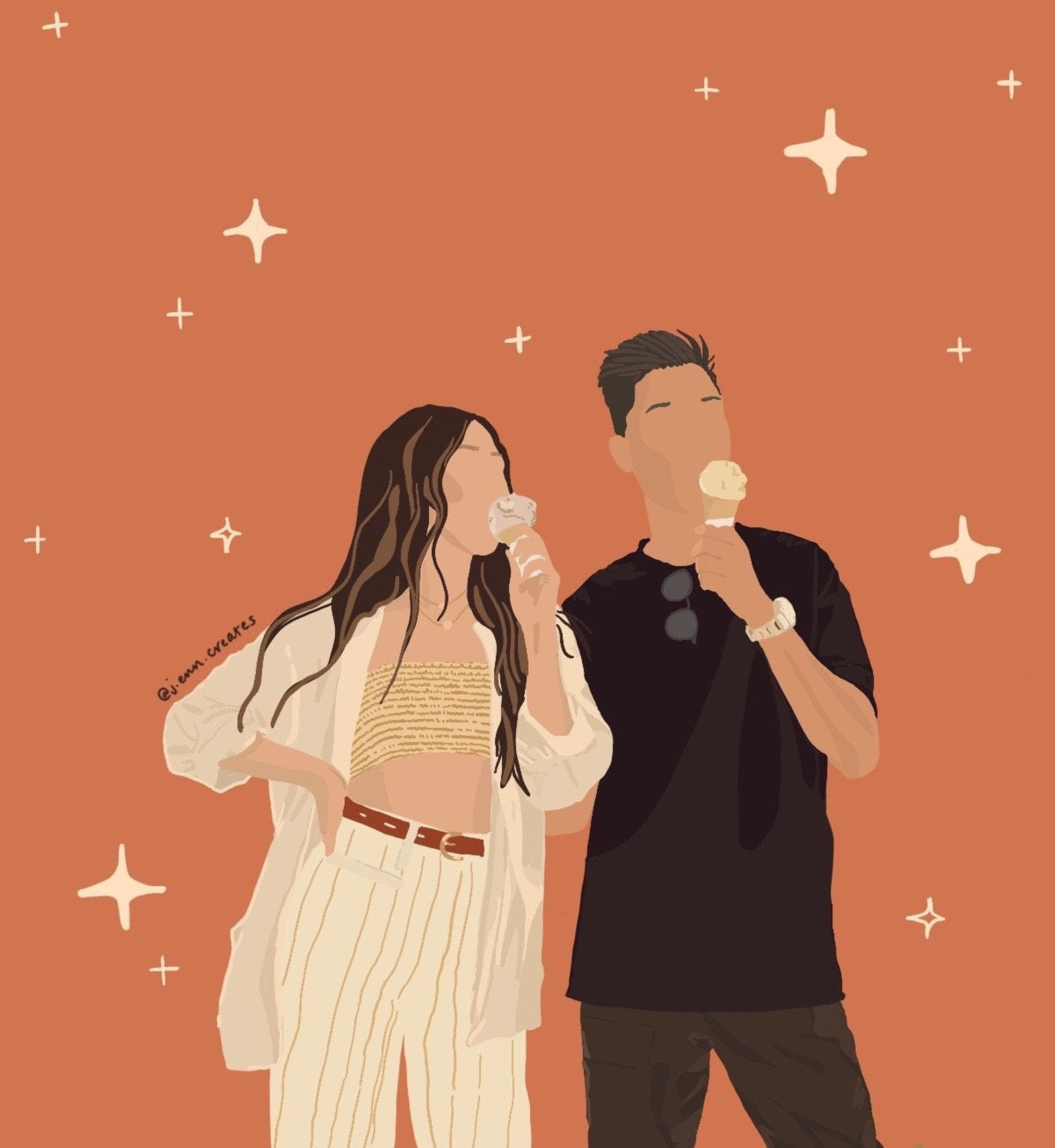 SHOP: Minimalist custom couple illustration from Jenn Ly, $40
This personalized housewarming gift idea for couples is a perfect way to help the new homeowners start planning a gallery wall in their new home. You can print and frame a digital portrait like this, or pass it straight to the couple to pick a frame they prefer.
7. Customized planter box with house numbers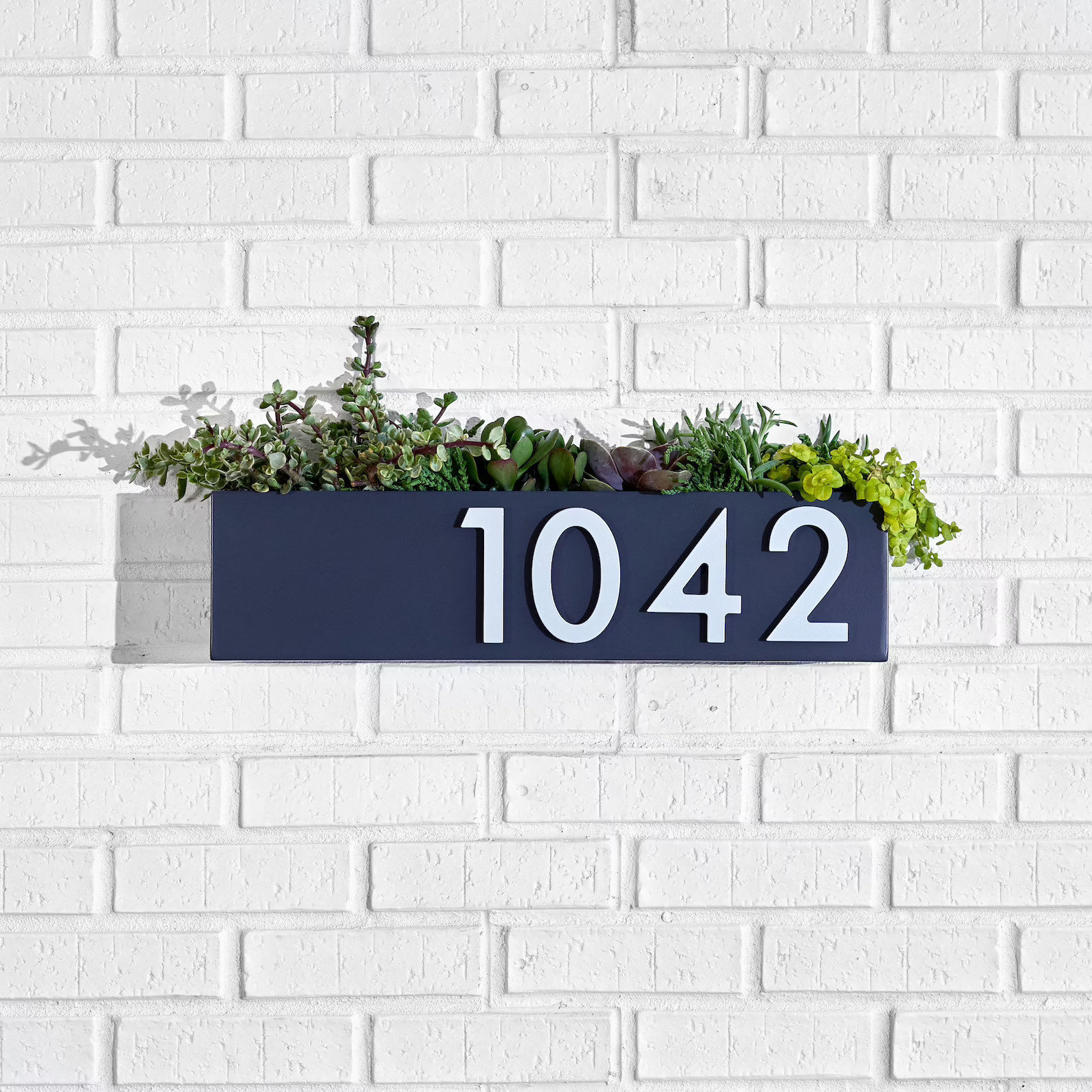 SHOP: Clarkesville planter with address numbers from Mod Mettle, from $130
For the couple with a green thumb, celebrate their new home with a planter box personalized with their house number. You can add a few plants so that it's ready to hang, or use this as a gift basket and fill it with traditional housewarming gifts for couples like bread, salt, and wine!
8. New home keychains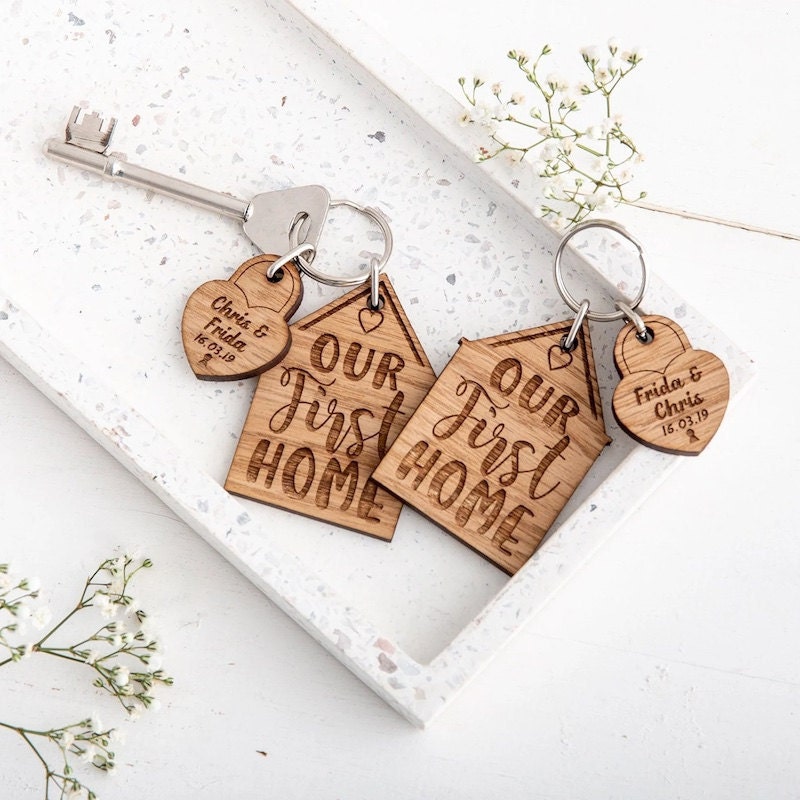 SHOP: Our first home keychain set from The Bespoke Workshop, $9
A thoughtful housewarming gift idea for couples, this pair of custom keychains features each homeowner's name along with the date they moved in.
9. Personalized wine caddy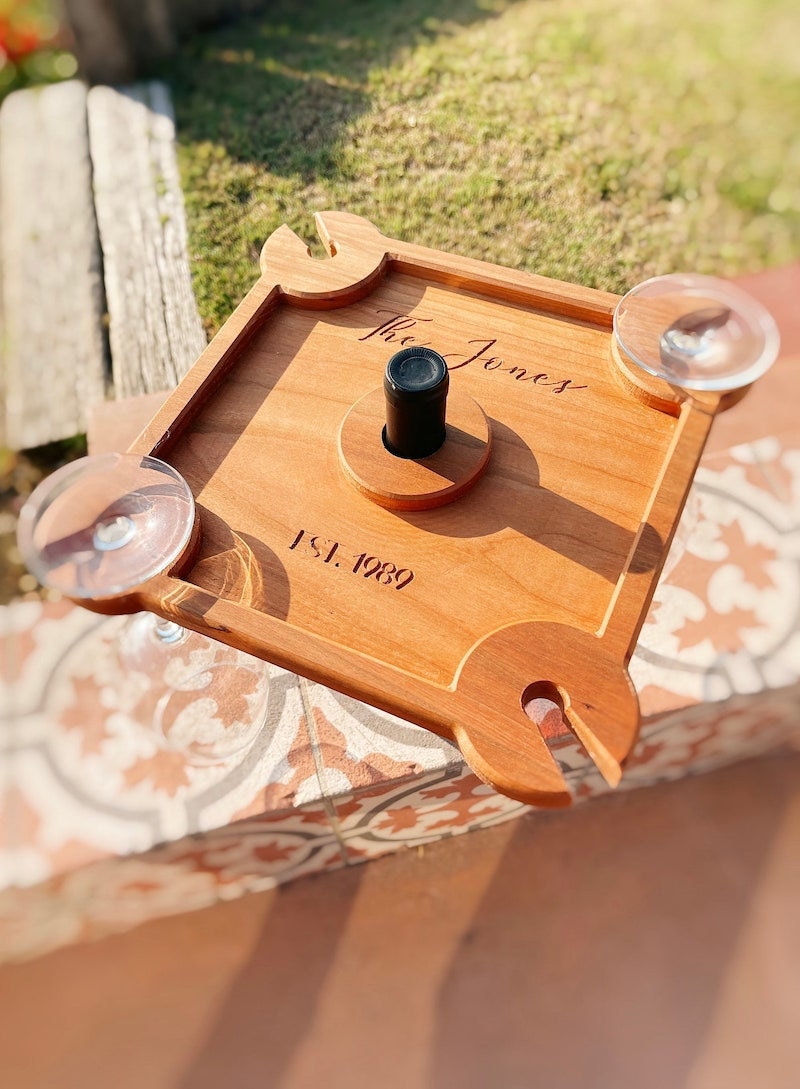 SHOP: Personalized wine caddy from Two Toned Craft Works, from $60
Perfect for the couple who's excited to host in their new backyard, a personalized wine caddy simplifies getting the sips from here to there. Add an extra set of wine glasses and help them get their bar cart ready for entertaining.
10. Modern art for their walls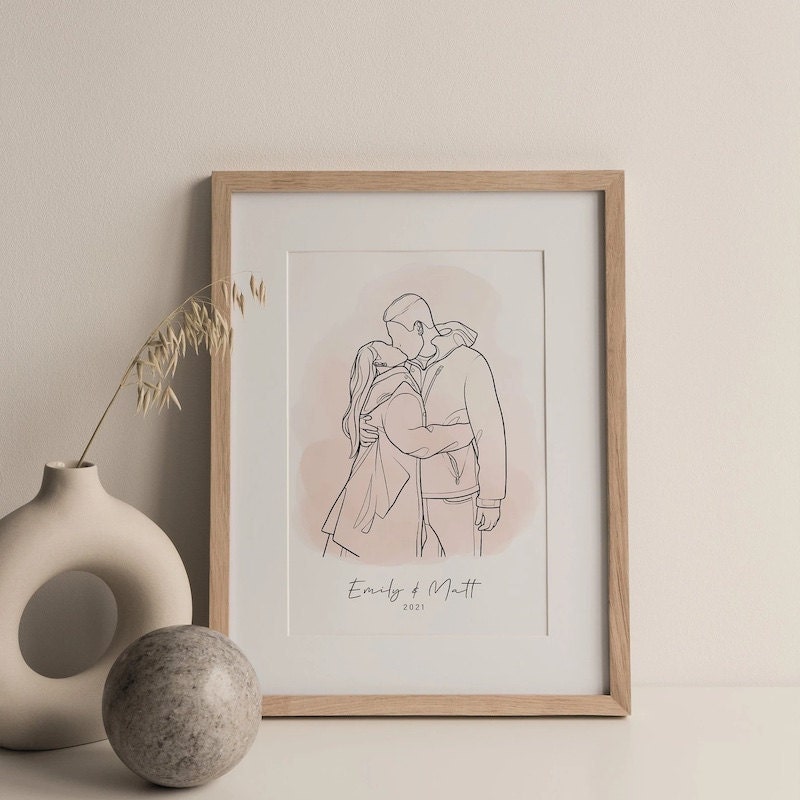 SHOP: Custom couple line drawing from Tayla Rose Collective, from $15
Work with a small shop on Etsy to create a one-of-a-kind piece of artwork for the couple's new home. This minimalist line drawing will welcome new guests to their home and celebrate their love for each other.
Unique housewarming gifts for couples
From tasteful twists on traditional gifts, like mugs and serving dishes, to one-of-a-kind finds, these unique housewarming gift ideas for couples are the perfect way to say "welcome to your new home."
11. A modern vase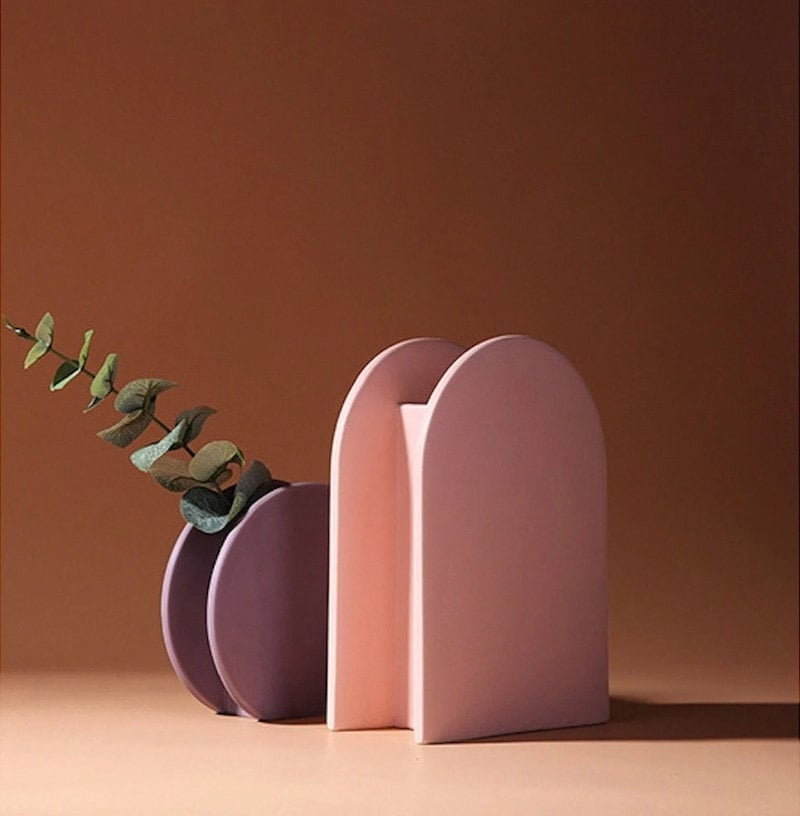 SHOP: Modern ceramic vase from Rocco Rona, $43
Thinking of presenting the happy couple with flowers to celebrate their new home? The modern, contemporary design of this arched vase is a sleek way to gift a few blooms, but we think it's just a stunning sans blooms and placed on a bookshelf.
12. Espresso mug set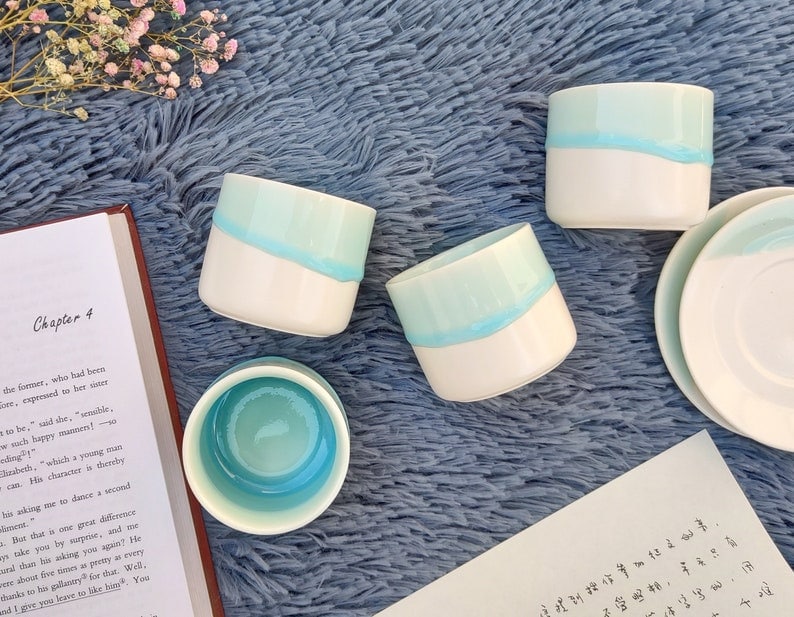 SHOP: Ceramic espresso cups set from FireClayArt, from $12
Whether it's a shot to get started in the morning or an after-dinner sip, espresso cups are a unique housewarming gift idea for couples who already have a grand collection of the best mugs.
13. Hand-blown cone glass set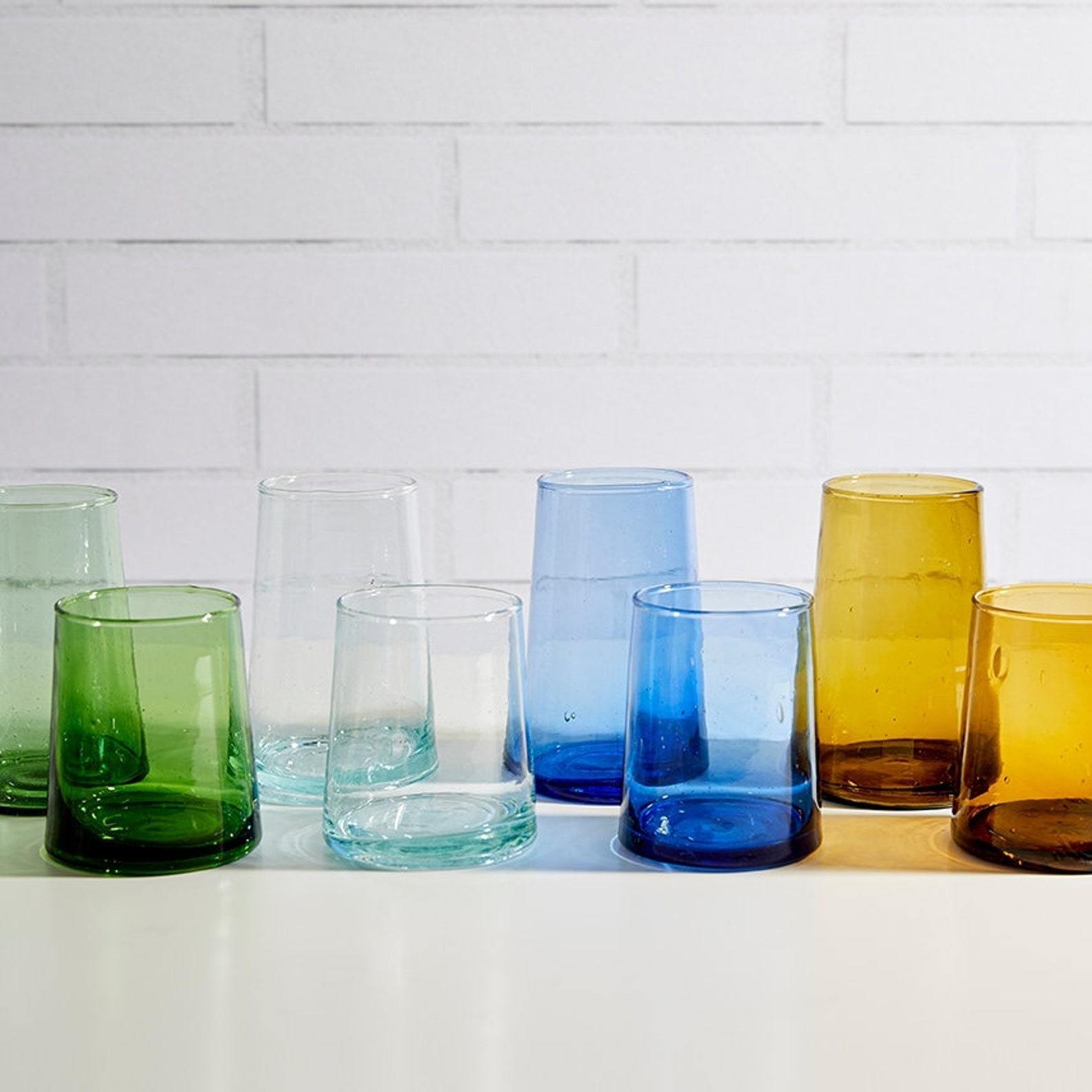 SHOP: Recycled Moroccan hand-blown glass set from Muirwood, from $51
A set of glasses is a housewarming gift that couples can use every day. Made from recycled beer and wine bottles, these hand-blown glasses are each perfectly imperfect with slightly different shapes and impressions.
14. Foodie dice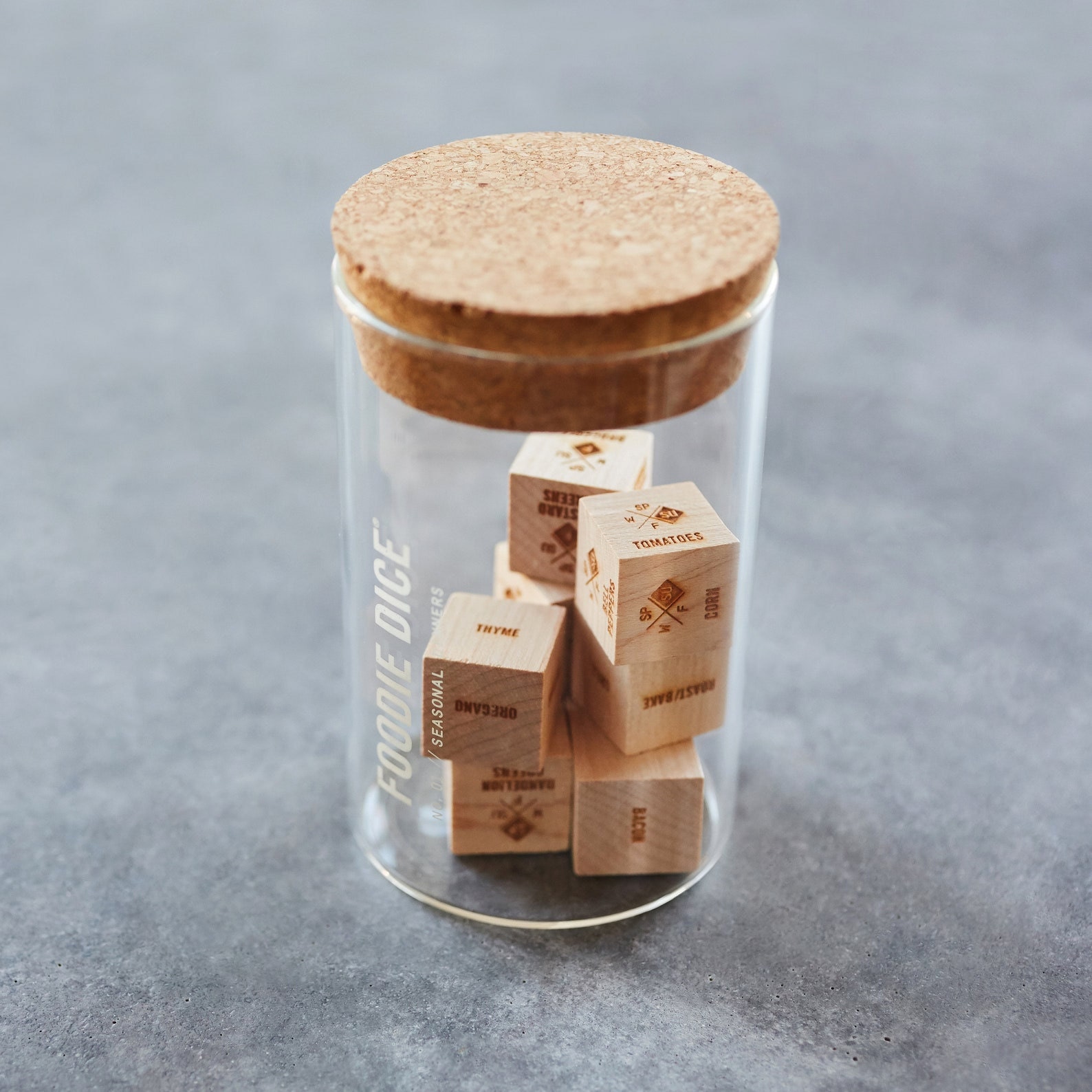 SHOP: Seasonal dinners Foodie Dice from Two Tumbleweeds, $32
For the couple who loves to entertain, a set of foodie dice is a unique housewarming gift that will inspire their menus for years to come. With dice for type of protein, cooking method, and more, planning their next soiree just got even more fun.
15. Fine art photography of their special place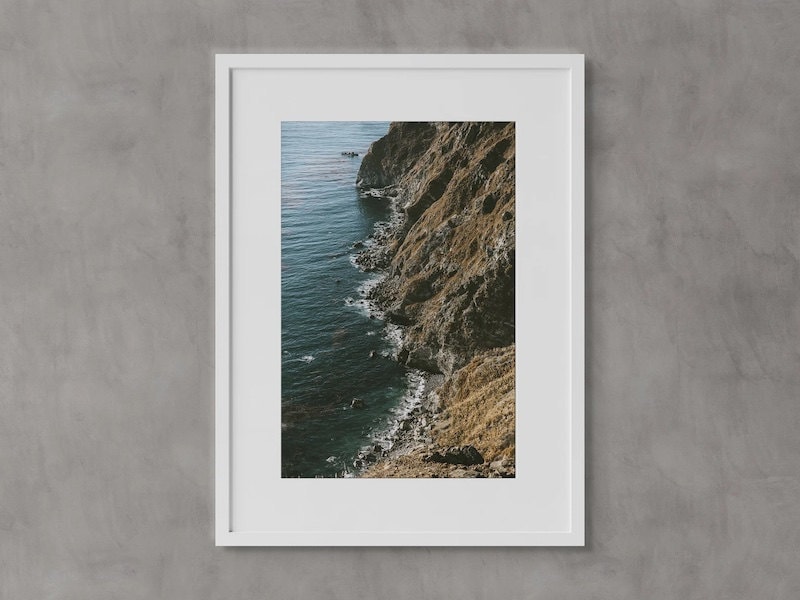 SHOP: Big Sur fine art photography from MO Photography, from $15
Help them start building a beautiful gallery of wall art with a fine art photography print of their favorite place. It could be where they met, their favorite vacation destination, or a shot of the first town they lived in together. From coast to coast and around the world, this small shop's prints earn rave reviews from buyers.
16. Versatile dinnerware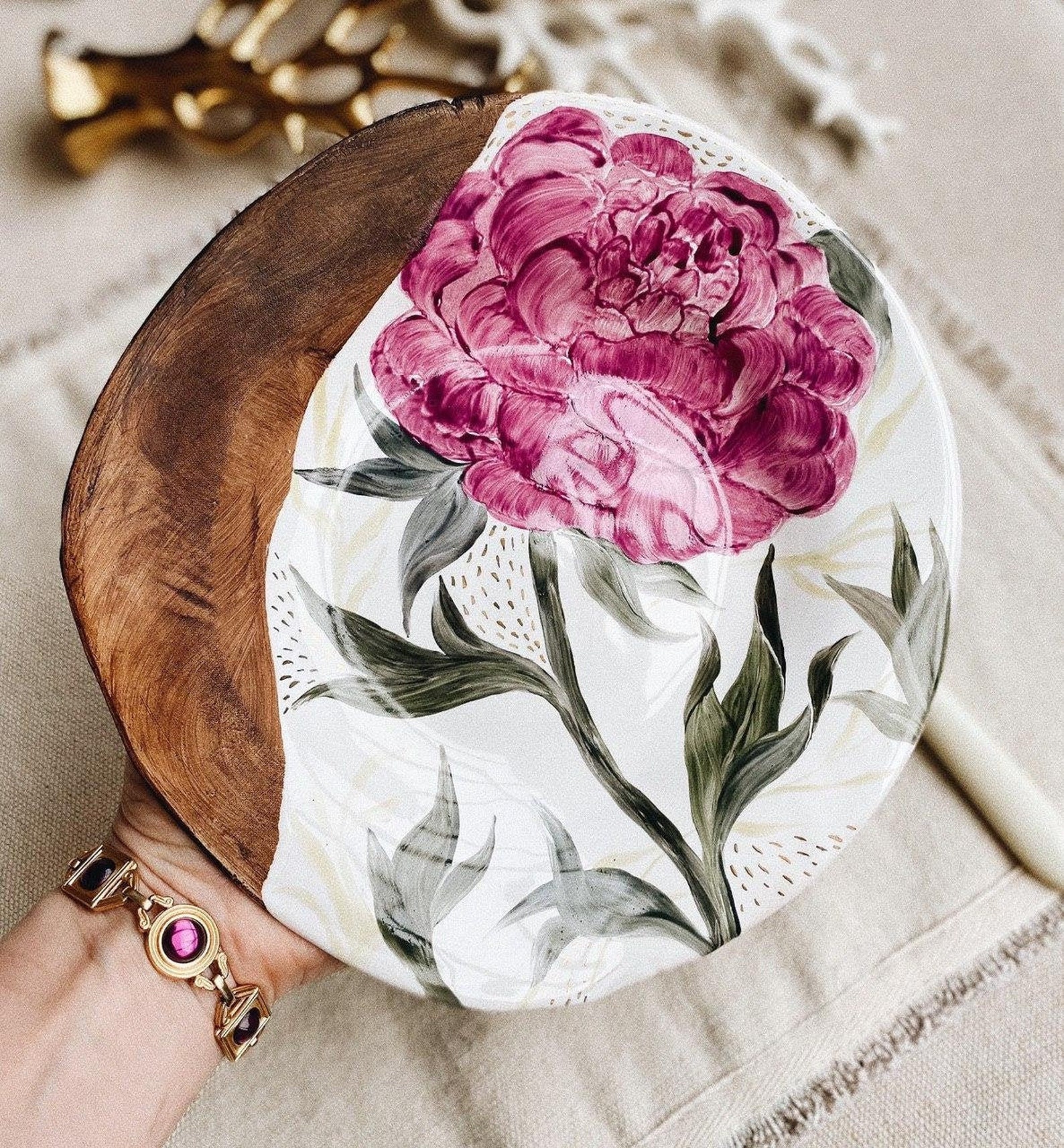 SHOP: Pink peony pottery dinnerware from Tile-Tile Testo, from $69
From serving platter to a tray for the coffee table, a beautiful plate like this floral-adorned find is a perfect housewarming gift for couples because it can be styled in so many ways.
17. Paper flower bouquet and vase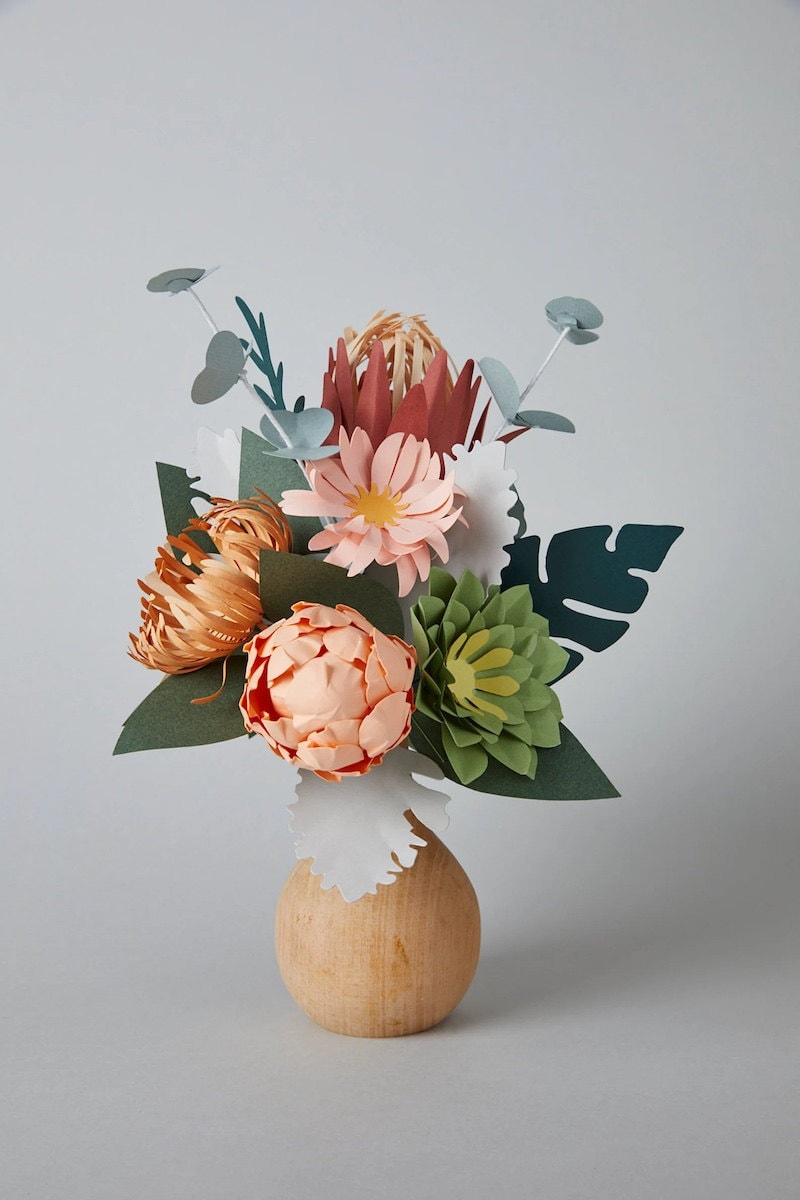 SHOP: Paper peony bouquet and vase from ANeHosStudio, $95
Flowers are a traditional hostess gift for a housewarming party, but these blooms won't fade away once the final congratulatory toasts have rung out. In addition to crafting these flowers by hand with family, this seller sources unique wood vases from local woodworkers.
18. White bear napkin holder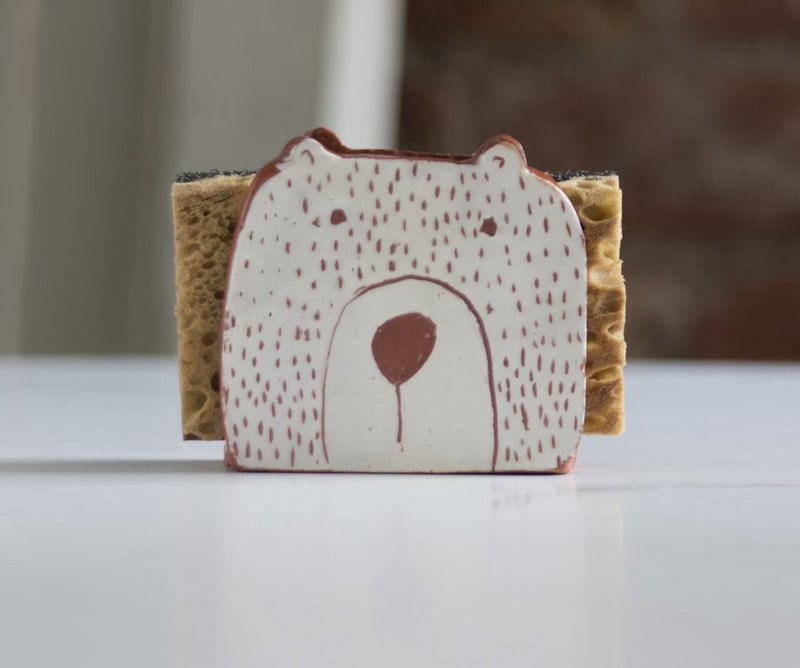 SHOP: Ceramic bear napkin holder from Vishnevsky's Socks, $24
Cute and quirky, this two-sided, ceramic bear-shaped holder can be used for sponges near the sink, napkins on the table, or set on a shelf to admire. Its small size makes this a perfect housewarming gift to send to couples who've moved away.
19. Bathroom labels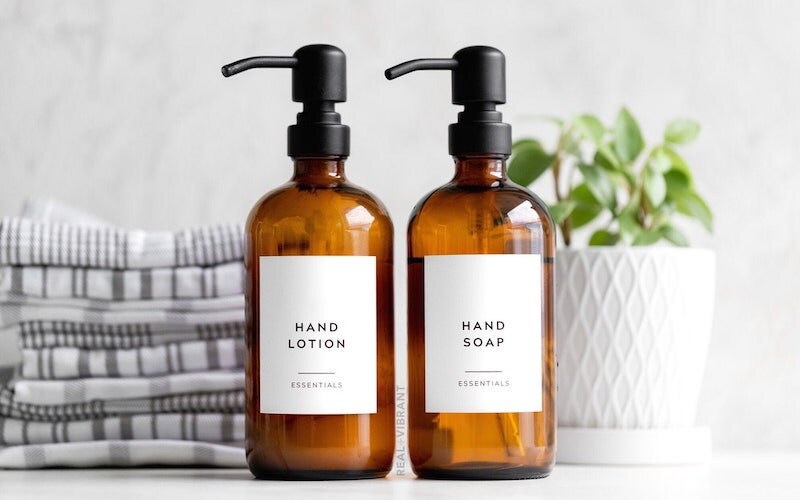 SHOP: Contemporary collection bathroom labels from Real and Vibrant, from $10
A perfect addition to a housewarming gift basket for couples, these minimalist bathroom labels are a stylish way to help the new homeowners get settled and organized. Add some luxury towels and a top-rated scented candle for a thoughtful touch.
20. Taper candles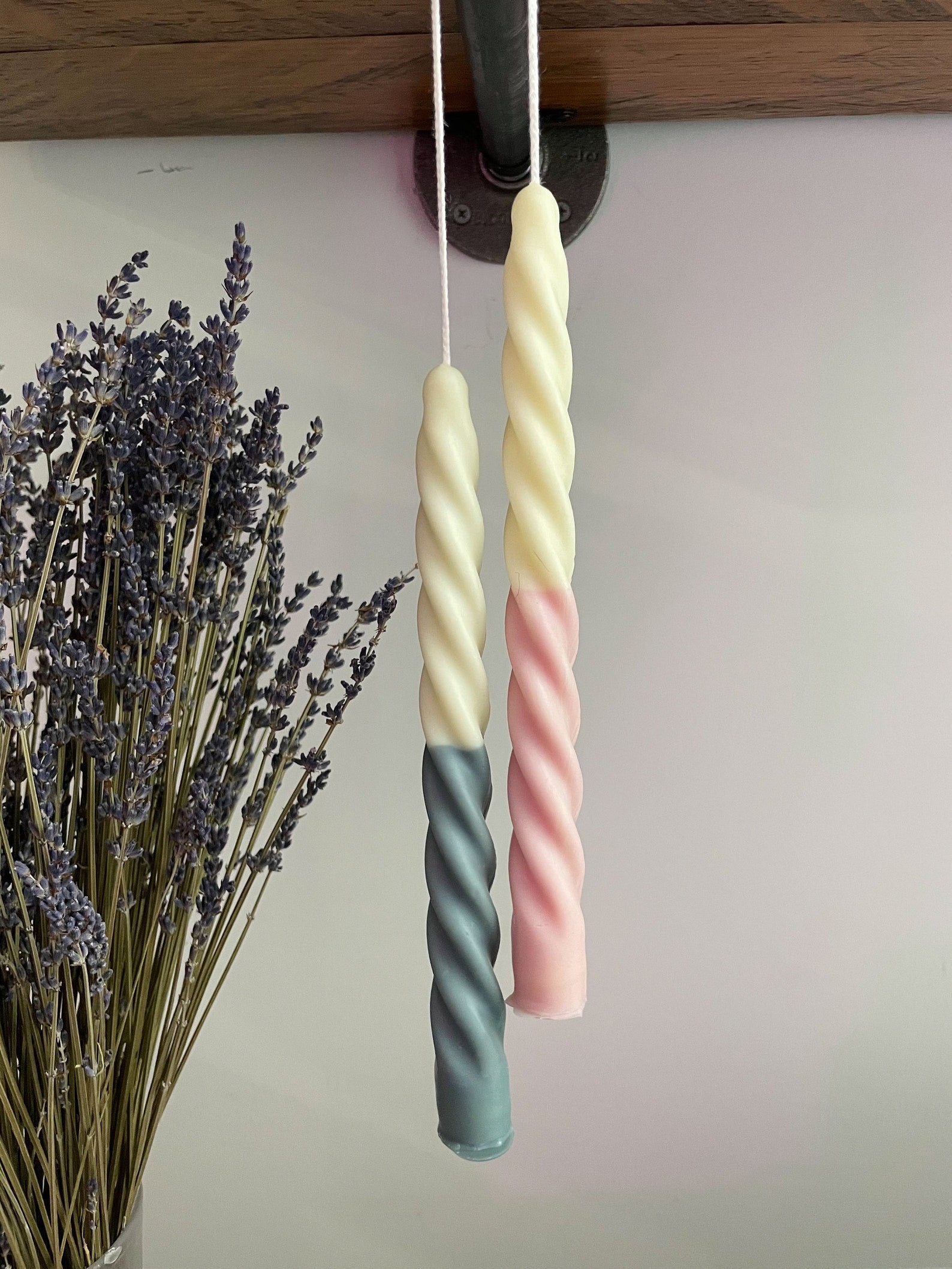 SHOP: Two-toned taper candles from Wax, $7
Candles get a unique twist—literally!—in this two-tone taper set. Gorgeous enough to gift solo or with a set of candle holders, design-obsessed couples will love this unique housewarming gift idea.
Housewarming gifts for couples who already have everything
Shopping for a housewarming gift for couples who have everything can be a bit tricky but don't worry! These housewarming gifts are practical, purposeful, and pretty, and we're confident they don't have them just yet (or they're lost in a moving box!).
21. A tech cord organizer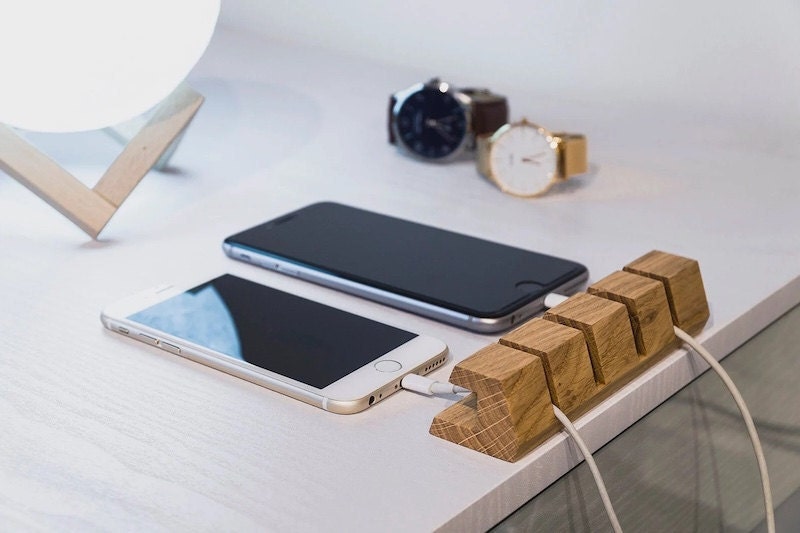 SHOP: Wood cable organizer from Batelier Handicraft, $29
You know that gift that seems so practical, you're not sure it has the right "wow factor"? With enough slots that both new homeowners can organize their cords, this tech organizer is sure to be the unique housewarming gift they put to use every single day.
22. A quirky pot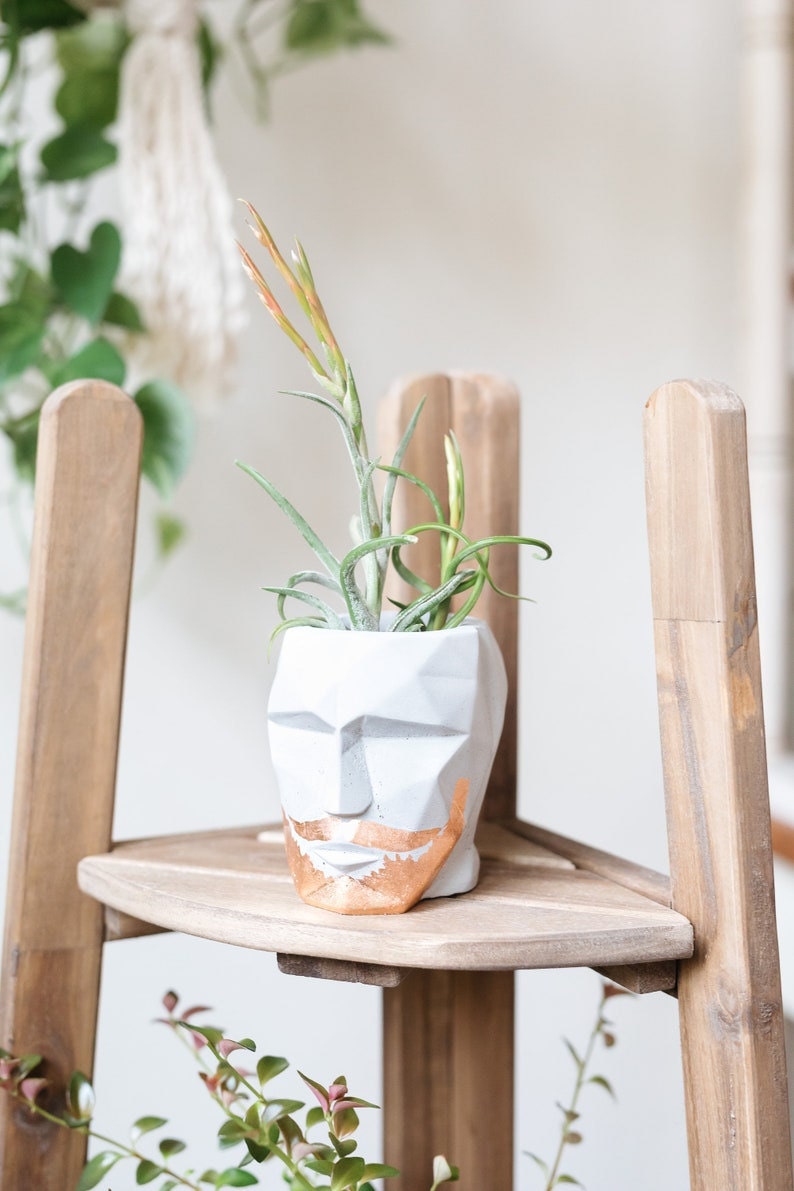 SHOP: "Harry Face" planter from The Concrete Letter, $40
Put a unique spin on the traditional housewarming gift of flowers for the couple and give them a living plant in a fun planter. If they struggle with their green thumbs, a faux plant is a great pick, too.
23. A colorful stained glass suncatcher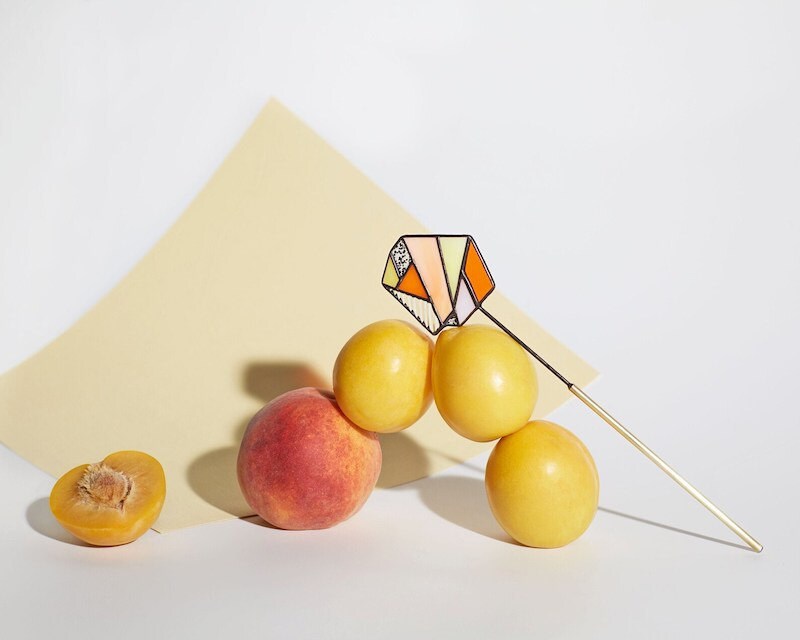 SHOP: Stained glass suncatcher plant ornament from Elena Zaycman, from $70
Welcome the special couple in your life home to their new house with a dazzling suncatcher they can use for years. Perfect for a kitchen windowsill, these stained glass plant picks can be added to any plant you pick up on your way to the official housewarming party.
24. A snuggle-ready throw blanket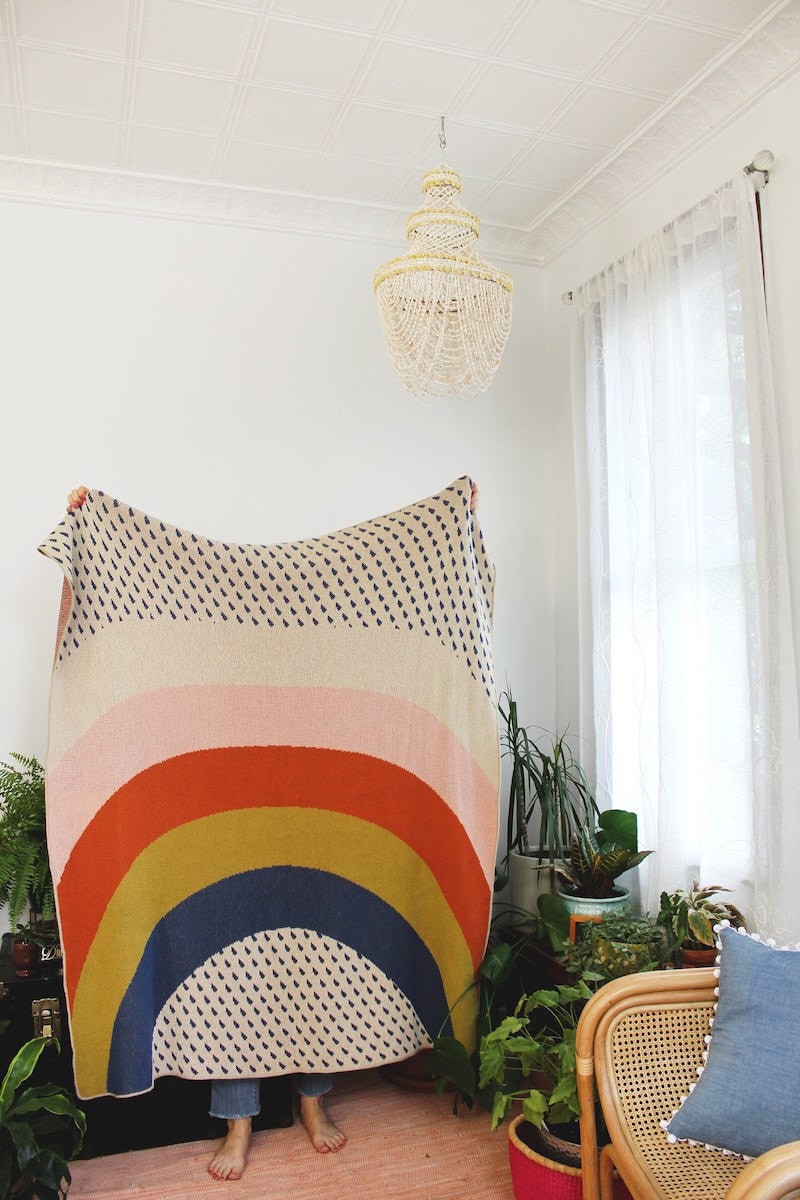 SHOP: Rainbow and raindrops knit throw blanket from Calhoun and Co., $118
A cozy throw blanket is always a thoughtful housewarming gift for couples and if it has a creative design or fun saying on it, even better! Throw blankets bring a pop of color and a dose of warmth—literally—to any new home space.
25. A regal pet portrait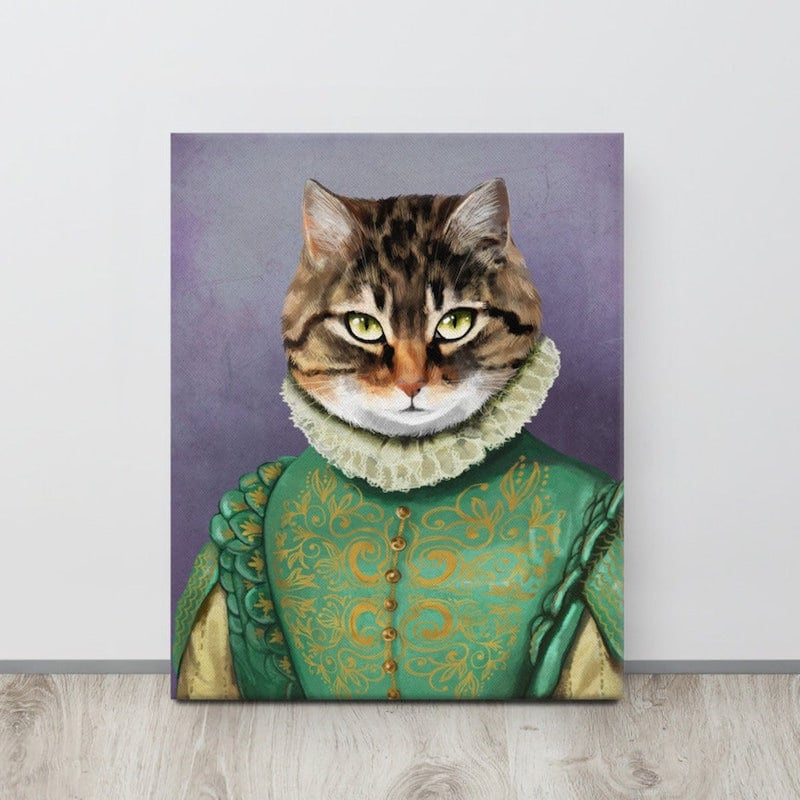 SHOP: Royal pet portrait from Homme Sur La Lune, from $65
For the couple who holds their four-legged friend in high regard, a custom portrait of their pet is a totally unique housewarming gift idea and the perfect way to welcome the entire family to their new home.
26. Reusable brown paper bag
SHOP: Reusable brown paper bag from Warm Grey Company, from $5
A water-resistant brown paper bag? Trust us, even the couple who has everything doesn't have this unique housewarming gift. Designed for a multitude of uses, from surrounding their favorite plants to storing garlic and onions in the pantry, this reusable sack is made from natural cellulose fiber and can be hand-washed.
27. A pair of scented candles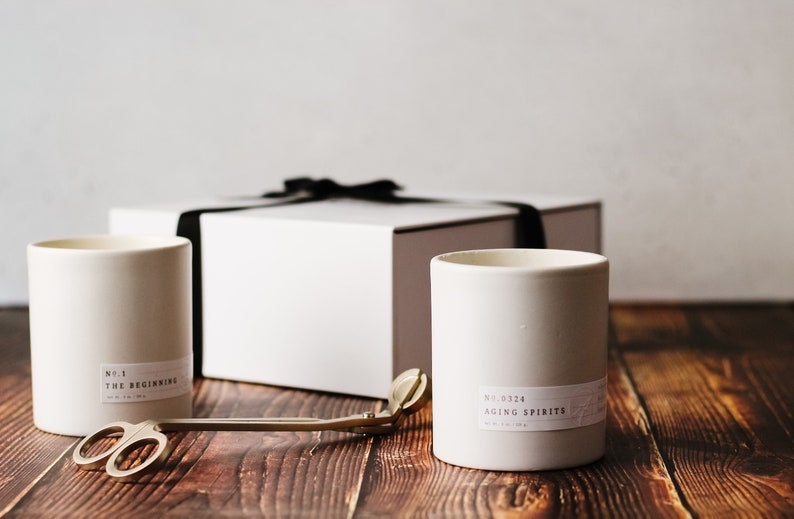 SHOP: Scent duo gift set from Aerangis, $138
A custom candle set with a candle for each new homeowner is a thoughtful housewarming gift idea for couples. Pick two scents and let each person claim their own corner of the home as their own.
28. Custom home painting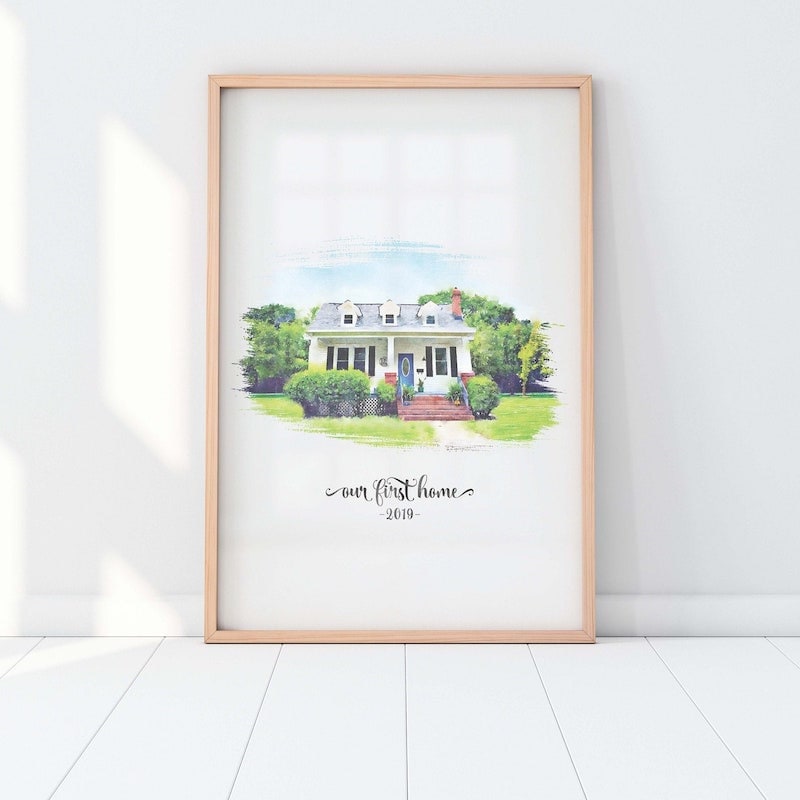 SHOP: Custom house portrait from Just Artin Around, from $45
Turn their new abode into a work of art with a custom watercolor home illustration. No matter where the road leads them, this couple's housewarming gift can go with them as a reminder of this home together.
29. Printable WiFi password sign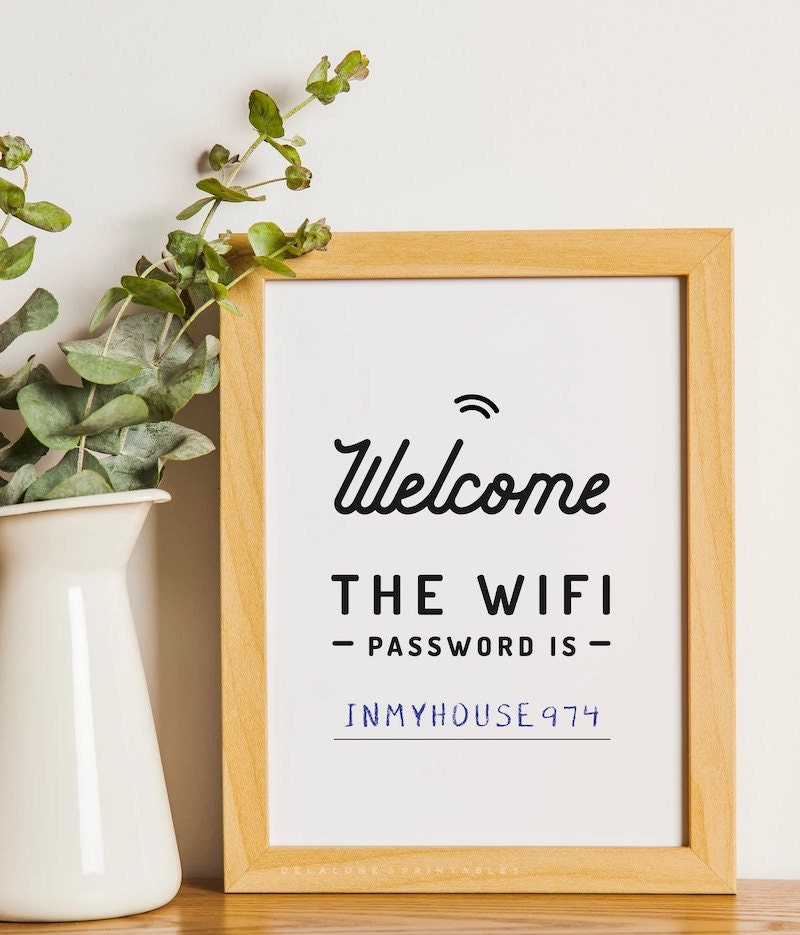 SHOP: Printable WiFi password sign from Delalune Printables, $5
Every homeowner knows their guests' first question usually involves the WiFi password. Make it easy for guests to login to your preferred network with this password sign. The best part? This digital download can be printed at home if you're short on time and in need of a last-minute housewarming gift idea for a couple.
30. Custom miniature hand-cut map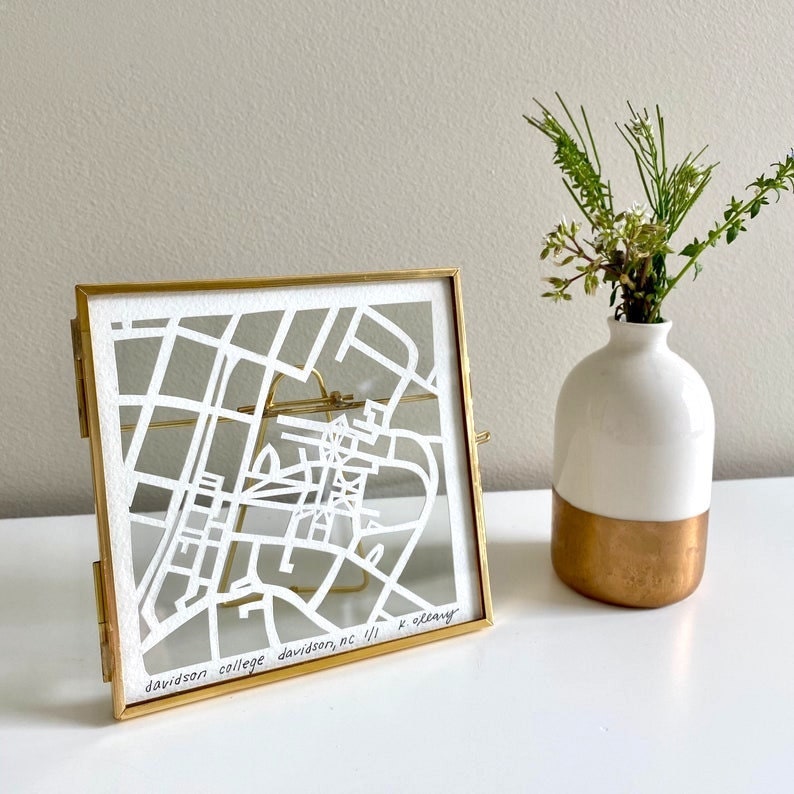 SHOP: Hand-cut map artwork from Studio KMO, from $60
The perfect conversation starter, a miniature hand-cut street map is the ideal adornment for a library shelf or side table. For the couple who loves their neighborhood, this is a unique housewarming gift idea.
31. A wine tote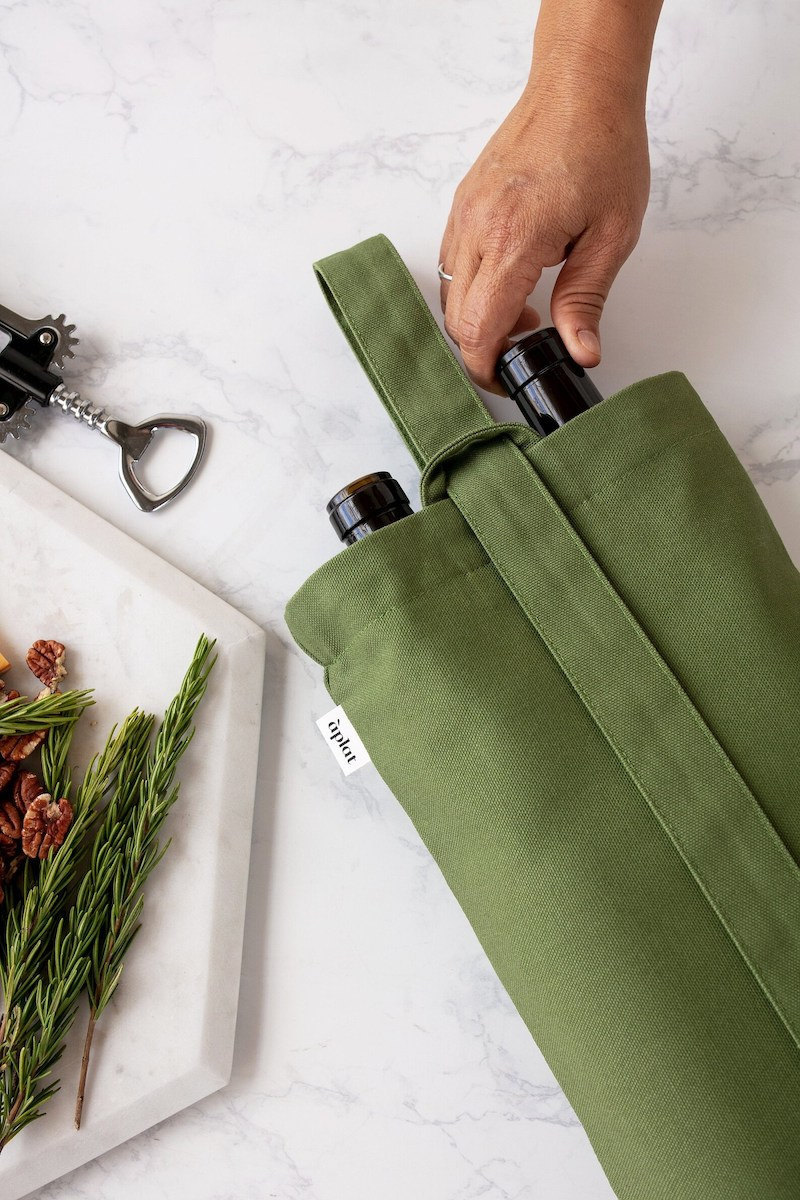 SHOP: Vin two bottle tote from Aplat Tote, $50
If you're bringing the happy couple a bottle or two of wine to toast their new home, add a canvas wine tote as cute and reusable gift wrap. Don't forget a set of unique wine glasses, too!
Traditional housewarming gifts for couples
Traditional housewarming gifts for couples help them make their new house feel more like a home. Shop for candles, name signs, and cozy home decor picks to help them get started decorating.
32. A traditional salt gift for flavor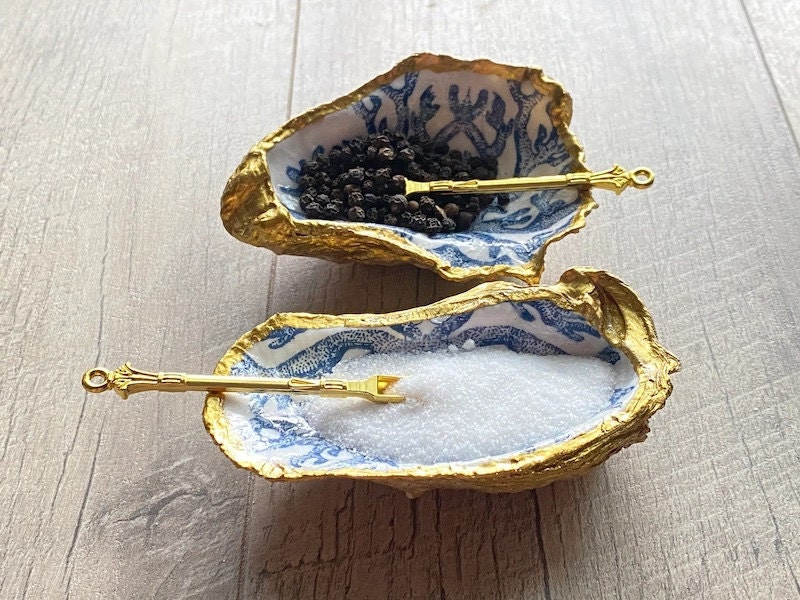 SHOP: Oyster salt and pepper dishes from Lavisainte, $35
Salt is a favorite housewarming gift for couples so that life together always has flavor. This oyster shell salt and pepper dish set is an elegant twist on this traditional gift idea, and buyers appreciate the beauty of these handcrafted pieces.
33. Fresh-baked bread candle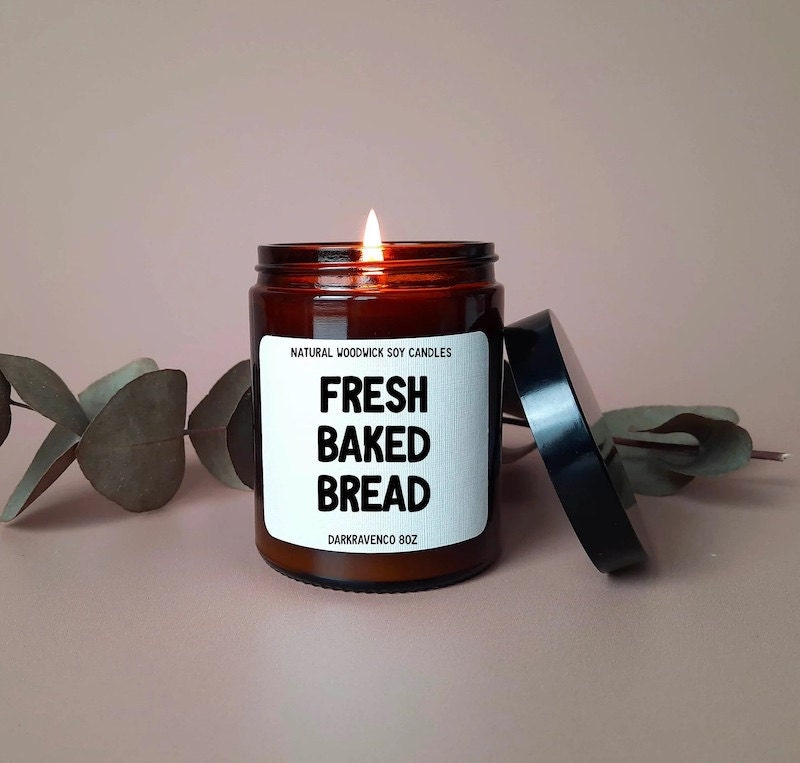 SHOP: Fresh-baked bread candle from Unicorn Trendz, from $25
Giving bread is a traditional housewarming gift, but if you're not a world-class baker, never fear. This hand-poured candle smells like fresh baked bread and is always warm and ready.
34. A personalized welcome sign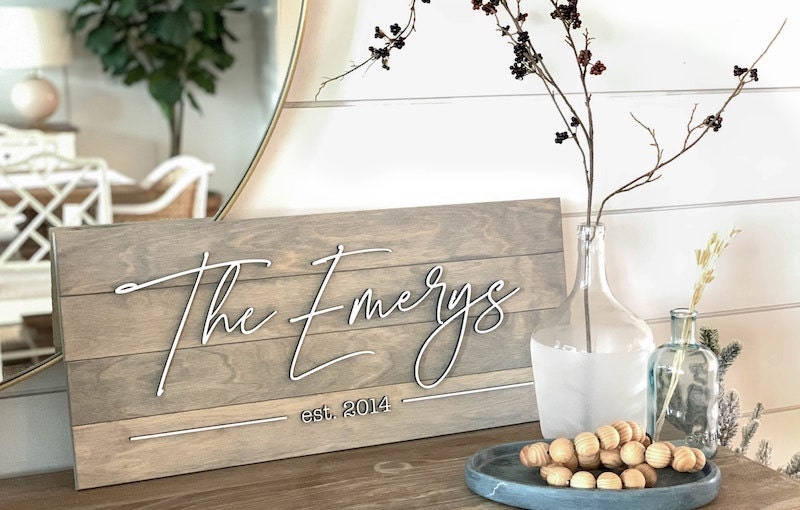 SHOP: Farmhouse family name sign from Heritage Sign Co., from $54
Mark the momentous occasion of moving into a new home with a personalized wood name sign they can hang above their front door or along a hallway to welcome guests.
35. A new home-inspired key holder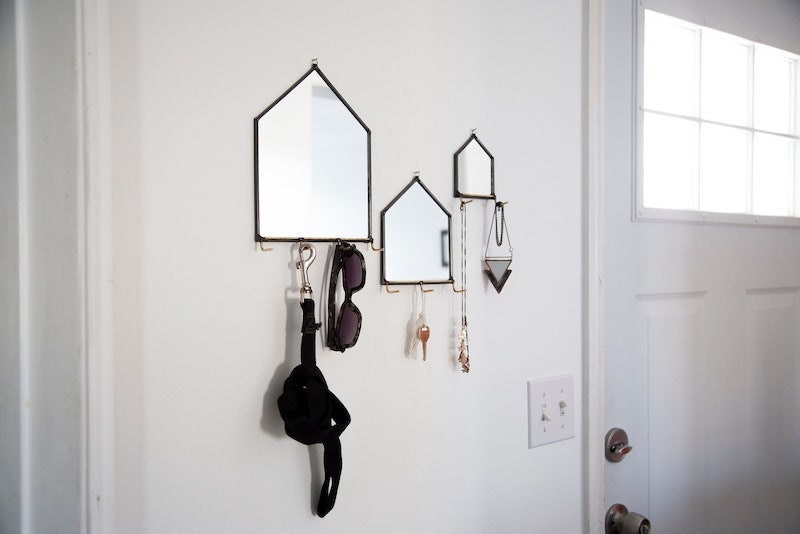 SHOP: Modern mirror wall organizer from Szklo Glass, from $45
Now that there's a new set of keys to keep track of, a modern mirrored key hook is a practical gift idea that doubles as a beautiful piece of wall art. These hooks are perfect for dog leashes, shopping bags, and anything else the couple on your list may need to keep close at-hand as they walk out the door.
36. Linen bread bag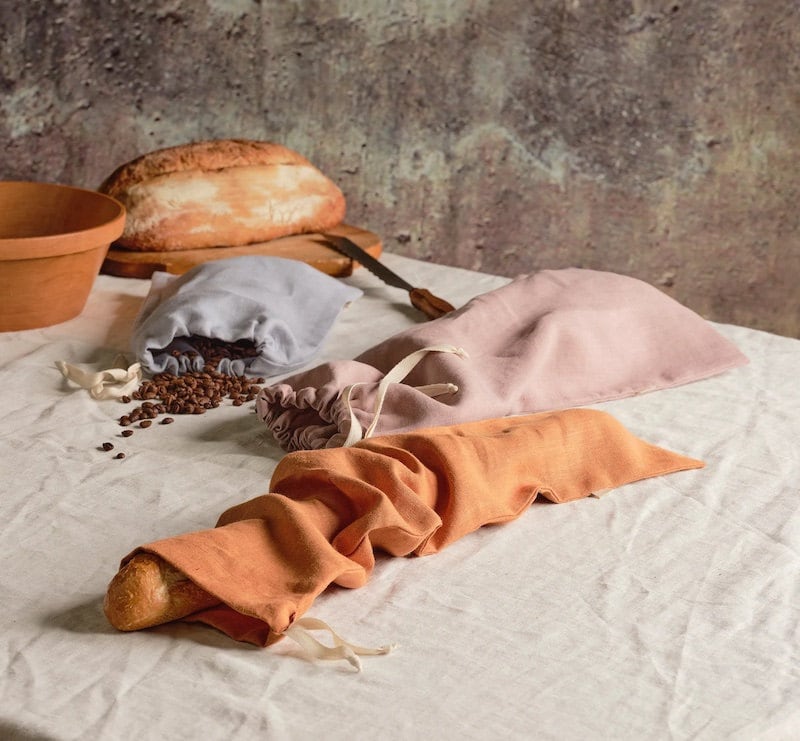 SHOP: Linen bread bag from Linen Duet, from $15
Bread is a traditional housewarming gift for couples so that their home never knows hunger. Grab your favorite baguette loaf and place it inside this reusable bread bag made from European linen and featuring a drawstring closure to keep things fresh.
37. A new home ornament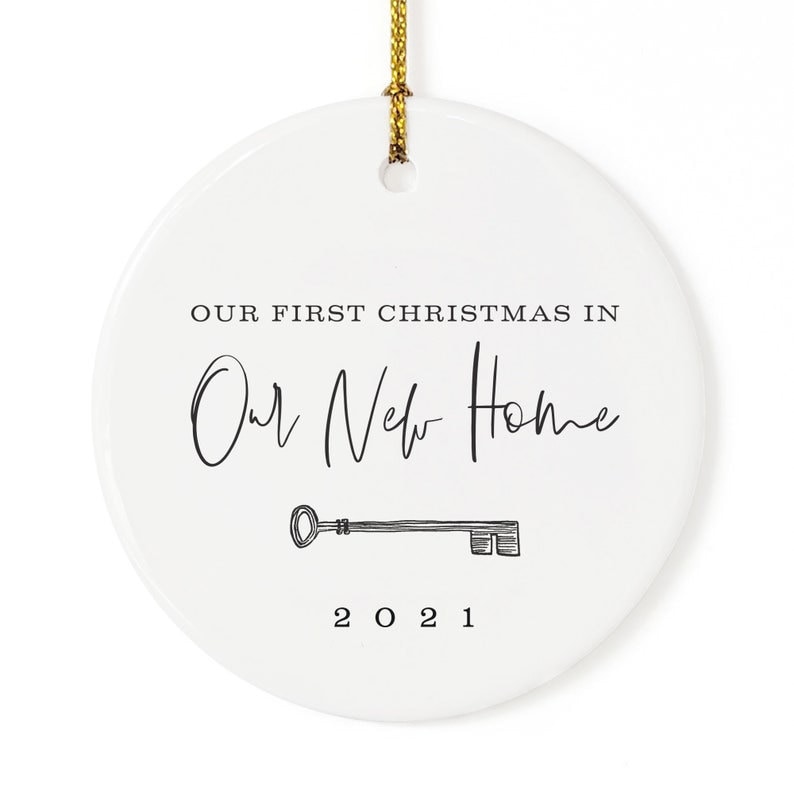 SHOP: "Our First Christmas in Our New Home" ornament from The Cotton and Canvas Company, $16
A simple, classic housewarming ornament is a thoughtful way to welcome a couple to their new home and remind them each year of the memories they've made together in this new space.
38. A doormat with their last name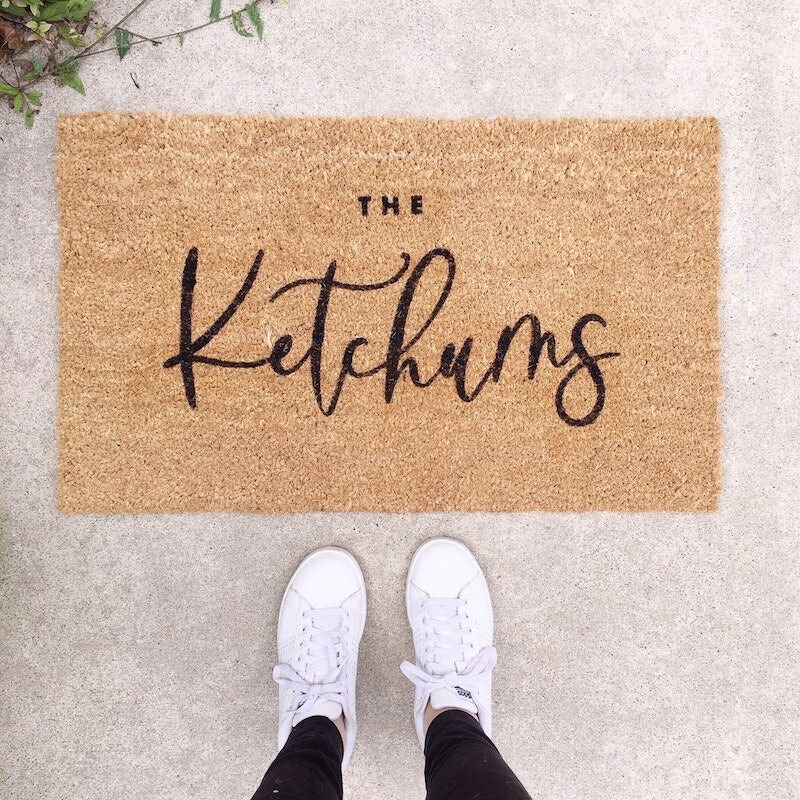 SHOP: Custom doormat from Proper Letter, from $59
A personalized doormat is a traditional housewarming gift for couples that will help them welcome friends new and old to their happy home.
Practical housewarming gifts for couples
Housewarming gifts that are both pretty and practical are one of the best choices because they'll be put to good use. And each time they're used, you'll be thought of!
39. Glass soap and lotion bottles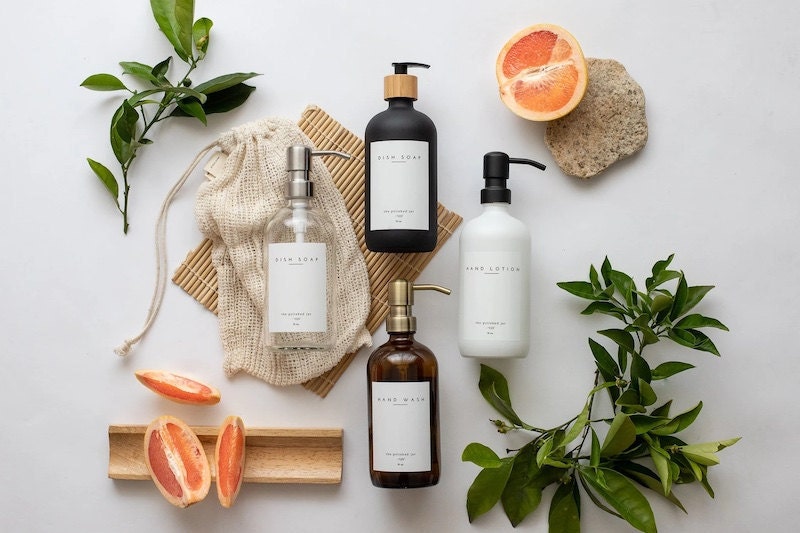 SHOP: Glass soap dispenser bottles from The Polished Jar, from $26
Perfect for hand soap in the powder bath, dish soap in the kitchen, and shampoo in the main bath, these luxurious glass bottles come in an assortment of colors, sizes, and label choices.
40. A set of handmade tea towels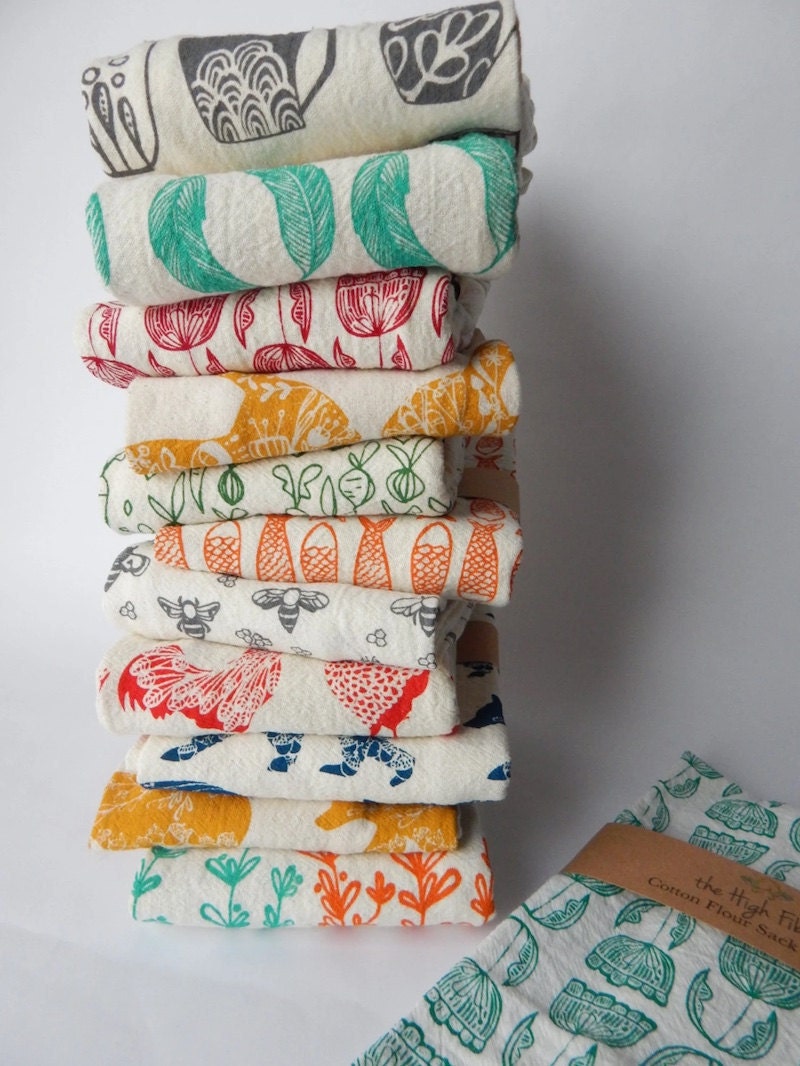 SHOP: Set of 3 handmade kitchen towels from The High Fiber, $42
A practical housewarming gift idea for couples, this set of handmade tea towels is made from flour sack material and designed to dry quickly. You can select your favorite three patterns from this seller's selection to create a one-of-a-kind set for the new homeowners.
41. Hand-woven rattan baskets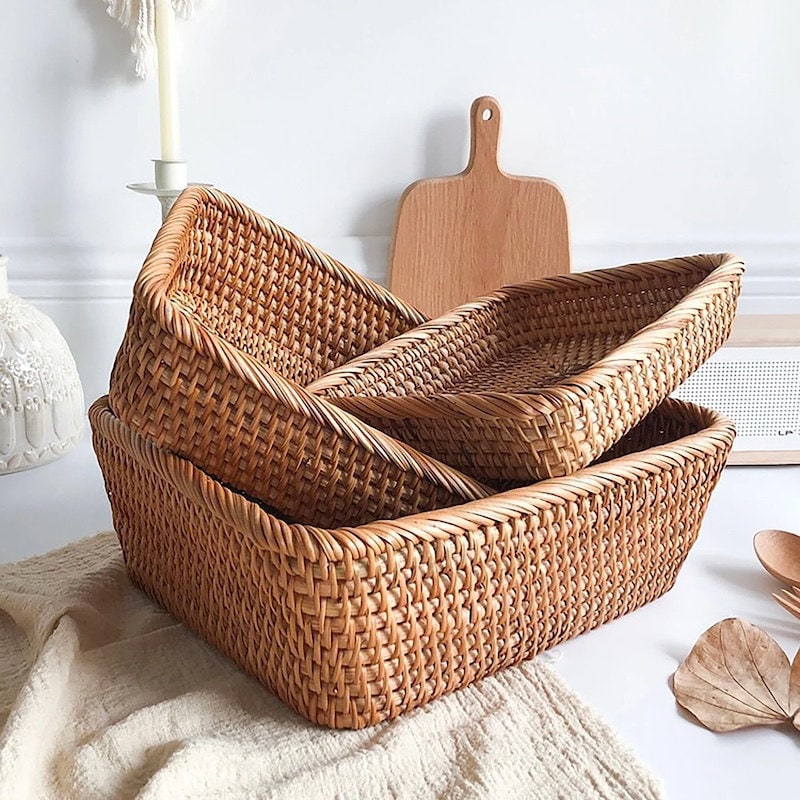 SHOP: Hand-woven rattan baskets in various sizes from Zoe's Handmade Crafts, $24
From pantry storage to bathroom organization, these lovely, hand-woven rattan baskets can be used in every room in the couple's new home. Give these practical presents as is, or fill them with a selection of all your favorite housewares for a personalized way to welcome them home.
42. A handmade hot pad for their first meal at home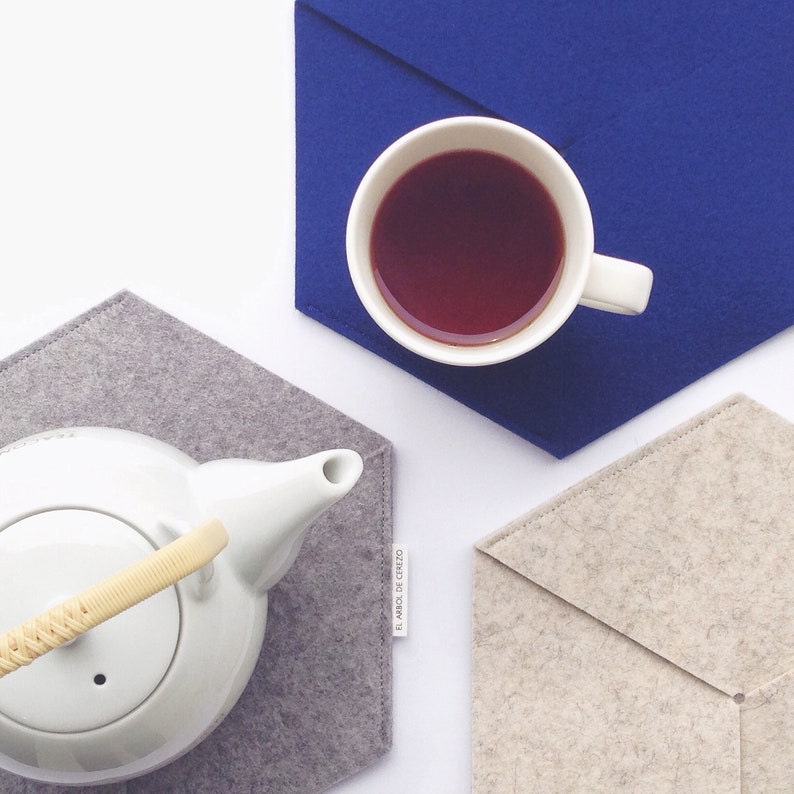 SHOP: Hexagonal felt trivet from El Arbol de Cerezo, $25
Perfect for protecting the counters in their new home, these geometric felt trivets can be gifted solo or as a set. They're a great accent piece on end tables, too, and can double as a coaster for drinks.
43. Stylish organizing baskets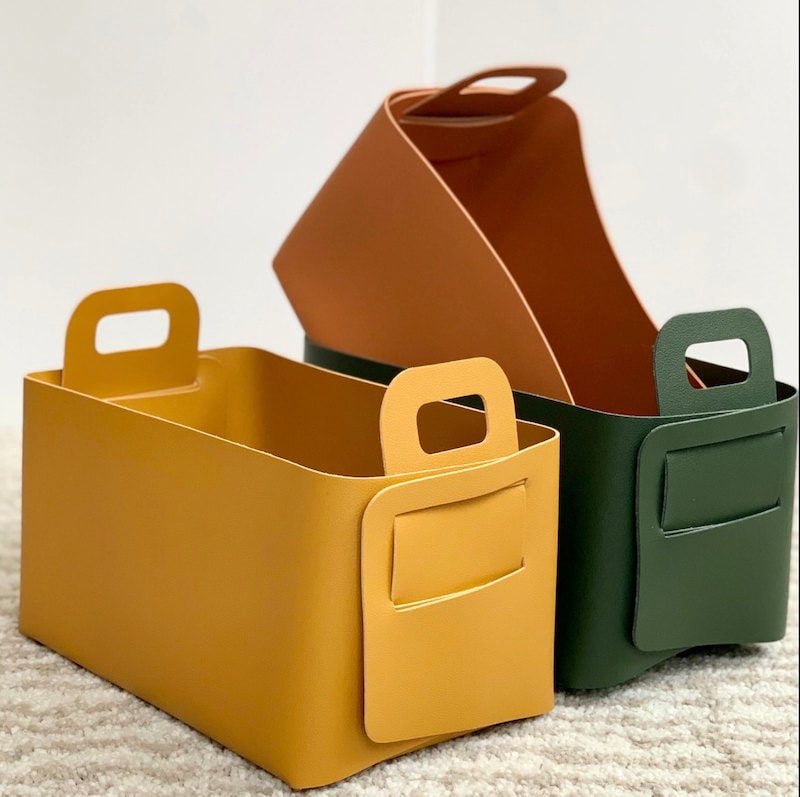 SHOP: Vegan leather storage basket from Zora Botanica, from $24
Leave it to a move to remind you just how many bits and baubles you actually have to keep organized! Give the new homeowners in your life a set of leather storage baskets and help them battle the clutter.
44. A wood tray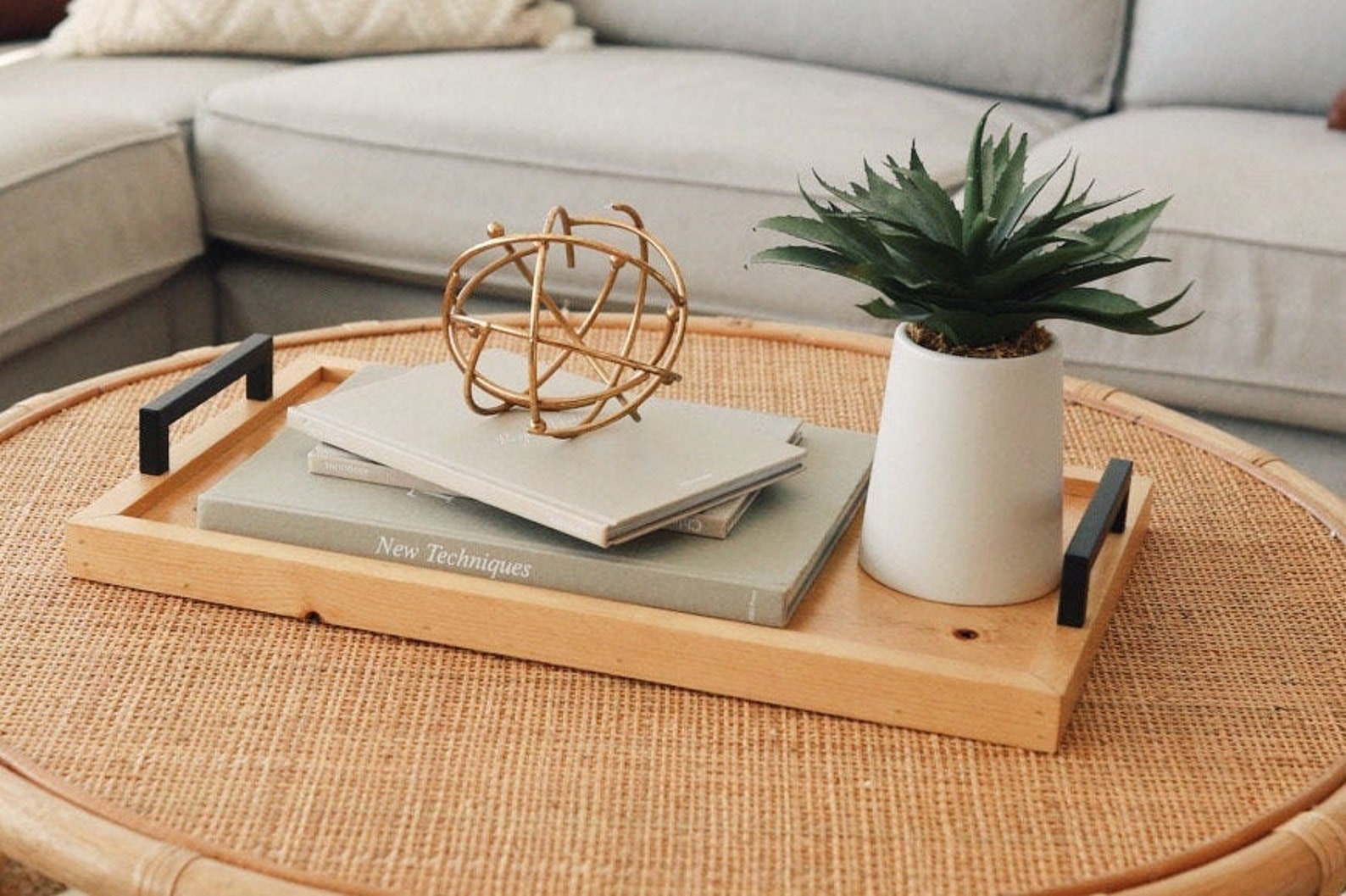 SHOP: Wooden ottoman tray from Bijouxlu and Co., $75
As they unpack all their treasures and search for the perfect spot in their new home, couples will love a simple and versatile wooden tray as a place to stage a few items.
45. Bookend planters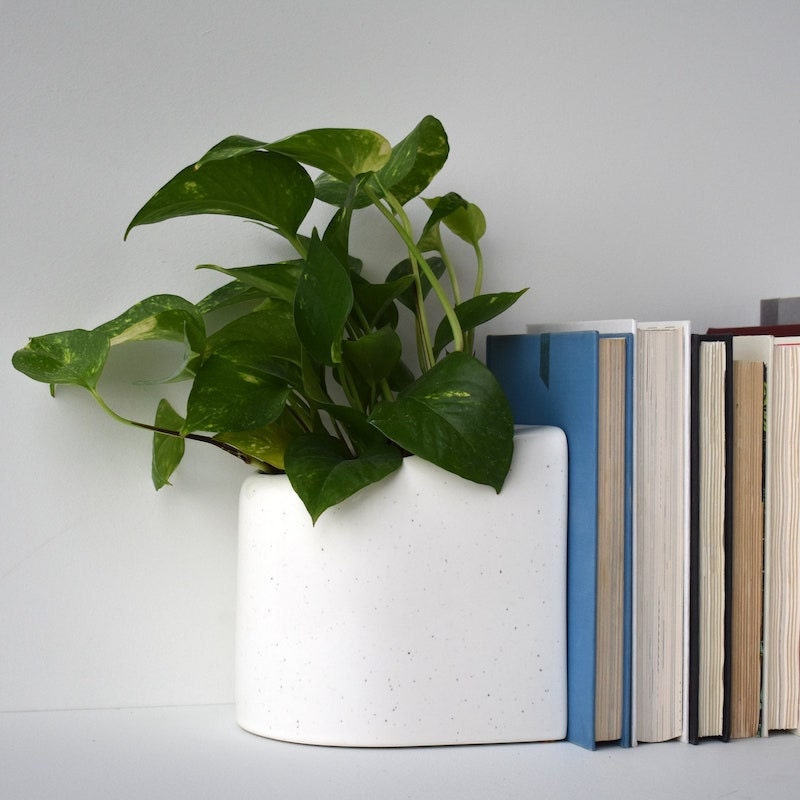 SHOP: STAK Editor planter bookend from STAK Ceramics, $54
Nothing says "practical housewarming gift" like a present that does two things at once, like this set of planter bookends.
46. Eye-catching coasters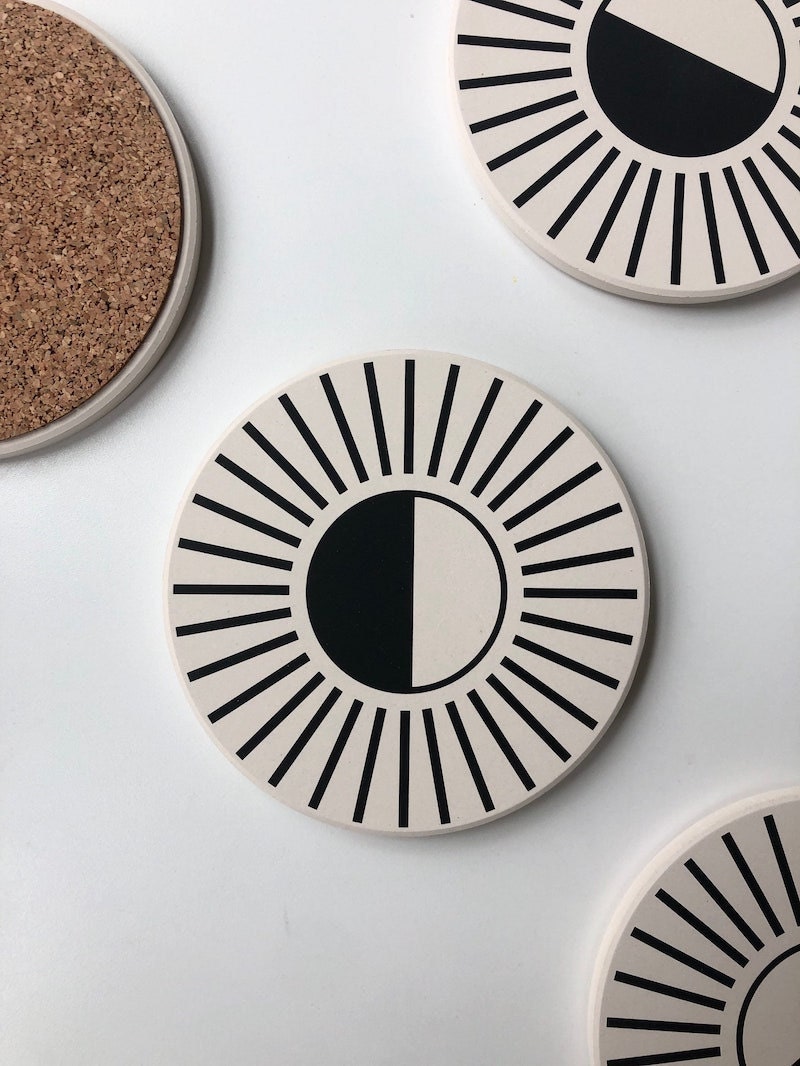 SHOP: Set of 4 ceramic coasters from Tramake, $32
Talk about blending pretty and practical—these bold, geometric-inspired coasters provide a pop of artistic expression even when not in use.
47. Modern return address labels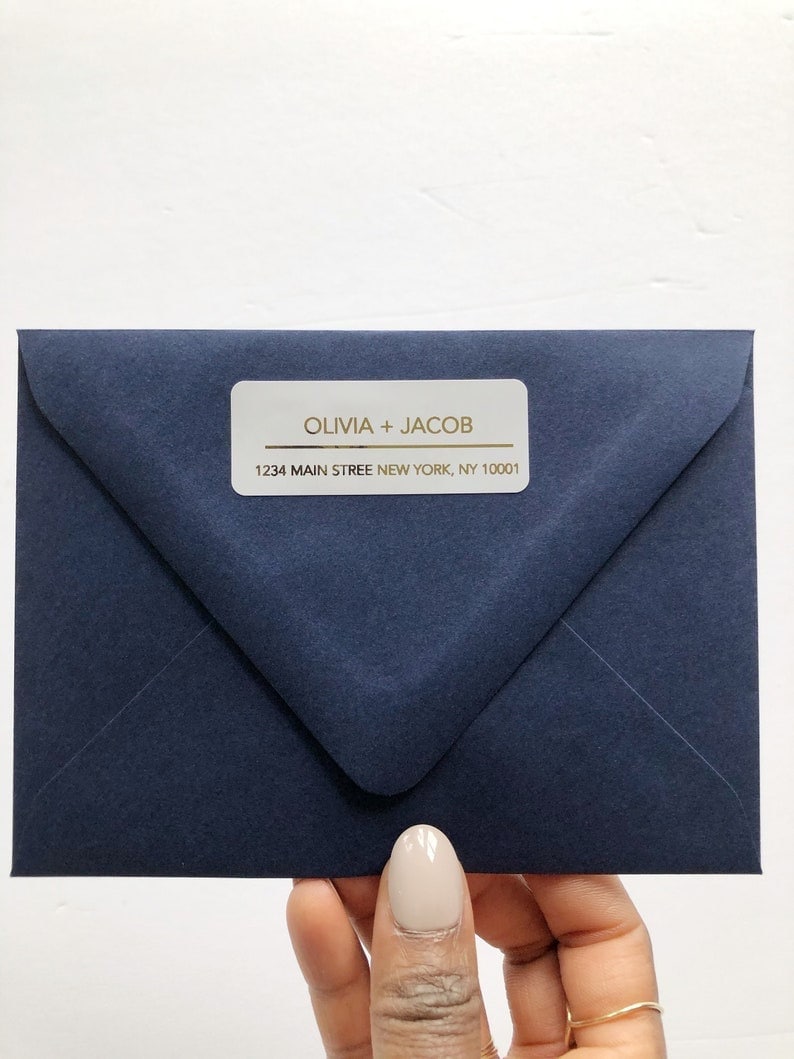 SHOP: Gold foil return address labels from Patrinas Paperie, $15
Celebrate a couple's new address with a modern set of address labels just waiting to be used on the thank you cards for all their great housewarming gifts.
48. A classic keychain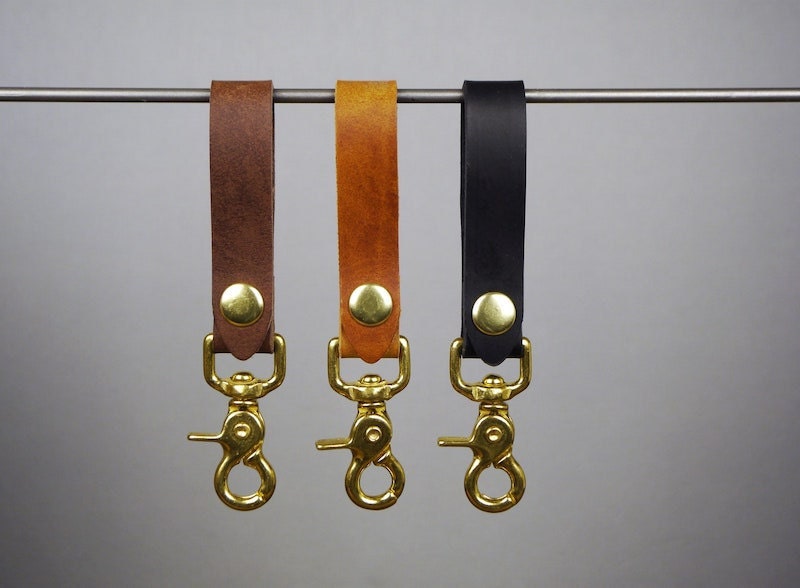 SHOP: Handmade key fob from Kingsley Leather, $56
New house keys deserve a new keyring. This timeless design clips easily to the couple's new set of keys and can be used as zipper pull or lanyard, too.
49. Peel-and-stick baking labels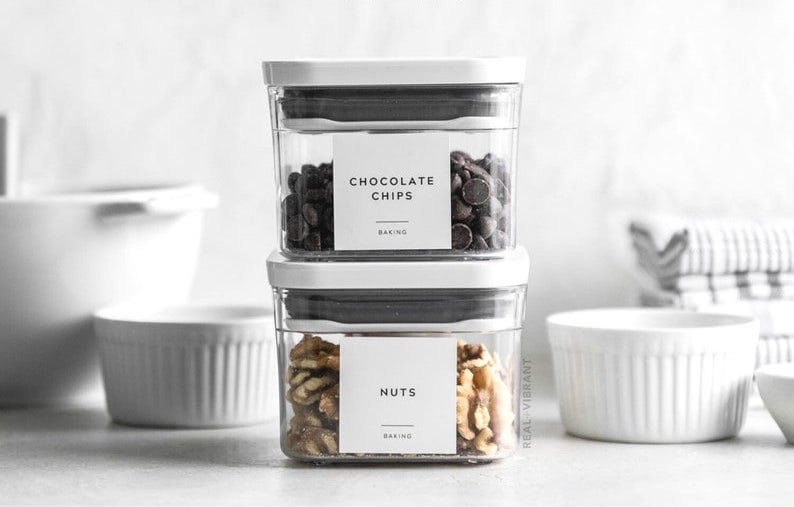 SHOP: Custom baking labels from Real and Vibrant, from $10
Even if there's still some serious unboxing to be done, at least the pantry can look put-together, thanks to these simple baking labels. Don't forget a set of clear canisters to complete your gift, and cross your fingers for some cookies in return!
50. Grill tool set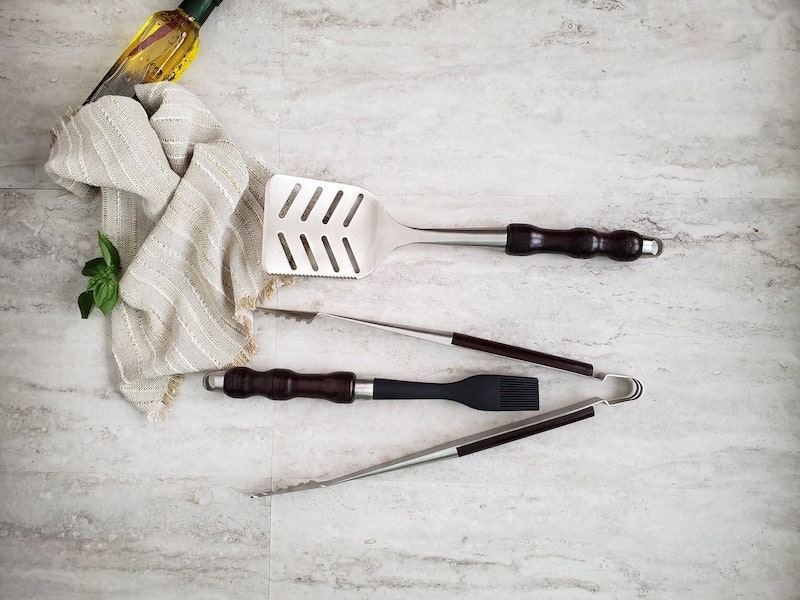 SHOP: Grill tool set with custom wood handles from My Old Whiskey Workshop, $120
For new homeowners who look forward to decorating their new patio space, a handcrafted set of grill tools with custom wood handles is perfect for the outdoor chef.
Best housewarming gifts for couples FAQs
What are good housewarming gifts for couples?
The best housewarming gifts for couples are personalized and practical picks that can be put to good use in a new home. Gifts like storage baskets (filled with goodies, of course!), customized cutting boards, and coasters are all a perfect way to welcome them home and help them settle in. A personalized keepsake commemorating their new home—like an address plaque, a portrait of their house, or an ornament—is something they'll treasure for years.
How much should you spend on a housewarming gift?
You'll find affordable housewarming gift ideas, handcrafted by the incredible small shops on Etsy. Even small housewarming presents can be meaningful when you work with a seller to personalize a truly one-of-a-kind gift. If you're looking for something simple, ornaments, coasters, and planters are inexpensive housewarming gifts that make a big impact. Personalized housewarming presents like house numbers, welcome mats, cutting boards, and wall art are also available in a range of prices from the shops on Etsy.
What are the best housewarming gifts for couples who have everything?
A personalized housewarming gift or a unique home gift are great ideas for couples who have everything. A custom house number sign is a thoughtful gift they can use near their new front door. And since their new address is most likely a different house number than their previous residence, it's likely they won't have this home gift just yet! Other home gift ideas for couples who have everything include custom home illustrations, a unique piece of wall art to kick off their new gallery wall, or a set of personalized tea towels.
What are the traditional housewarming gifts?
Some traditional housewarming gifts include bread, salt, and pineapples! Each of these traditional housewarming gifts has a special meaning. Giving bread as a home gift for the new couple represents the idea that the couple will always be fed. Salt is a traditional gift symbolizing the wish that the couple's life together always has flavor. Pineapples are a symbol of hospitality and a traditional gift to welcome new neighbors. Small shops on Etsy have created unique twists on these traditional gifts like pineapple-engraved cutting boards and bread-and-salt gift bags.